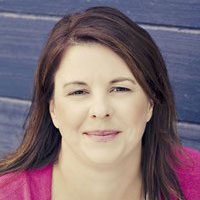 Katy Locker joined Knight Foundation as Detroit program director in September 2013.
Locker, a Michigan native and Detroit resident, served as the vice president of programs at the Hudson-Webber Foundation for five years. Her work focused on building a grant-making program and cultivating grantee relationships to revitalize greater downtown Detroit. She helped lead an effort to launch the "15×15" vision, aimed at attracting and retaining 15,000 young, talented households to greater downtown Detroit by 2015. In addition, she spearheaded the release of "7.2 SQ MI," a report that captures the progress of greater downtown Detroit.
Prior to her work with Hudson-Webber, Locker engaged in policy advocacy and practiced law in Detroit with a focus on land use and community development. In her first Detroit position, as director of policy projects for Community Legal Resources (now known as Michigan Community Resources), she took on policy projects that focused on revitalization efforts in Detroit.
Locker holds Bachelor of Science and Master of Public Administration degrees from Cornell University and is a graduate of the University of Michigan Law School. She previously practiced redevelopment and public law in California and served as a policy analyst with the Judicial Council of California.
Locker is vice chair of the board of Gleaners Community Food Bank of Southeastern Michigan and is a former board member and past chair of the Detroit Artists Market. She is a graduate of Leadership Detroit Class XXVIII and was named in Crain's Detroit Business "40 Under 40" in 2010. She is also a German Marshall Fund Marshall Memorial Fellow.