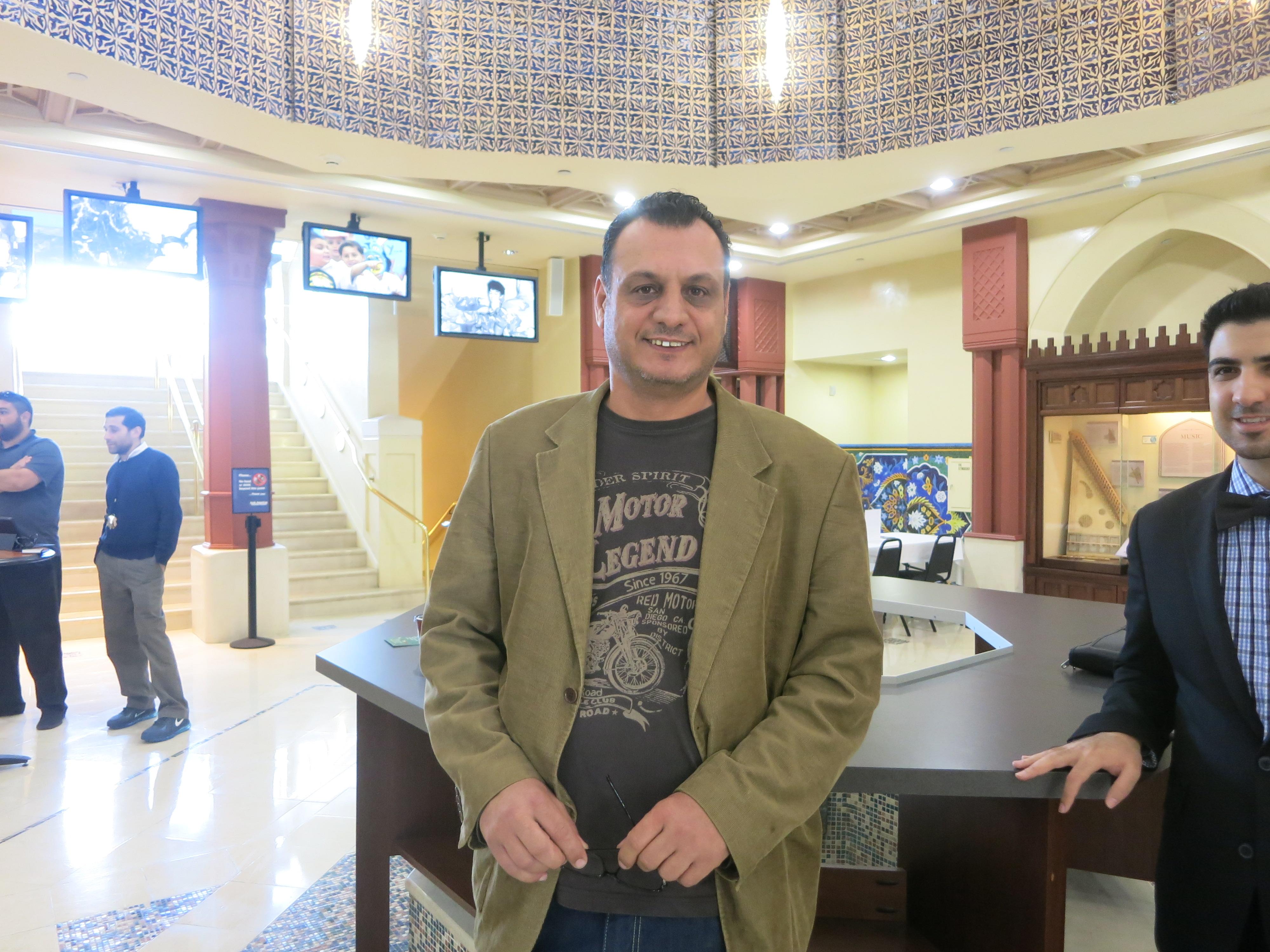 It's one of those blink-and-you'll-miss-it places along a heavily traveled stretch of Woodward Avenue, but in the 18 years it's been open, Turkey Grill has developed a huge following. It's tucked away in a 1927 building, right across Woodward from the Virginia Park Historic District, and since it opened in 1996, it has become a staple of Detroit's North End neighborhood. It's the kind of restaurant with a strong neighborhood identity — so strong, in fact, that it sells its own T-shirts, arrayed on a rack in the front.
On the Wednesday we stop in around lunchtime, it's busy, with a mostly carryout crowd. The dining area is adorned with the sorts of touches you'd expect from a proud local business: a pencil drawing of Muhammad Ali, an illustrated map of Yazoo City, Miss., African-American folk art, old newspaper articles, and a section of wall featuring photos of the owner posing with local politicians and luminaries. There's even an old Shine-a-Matic machine, out of order, but still advertising automatic shoe shines for a dime.
Then there's all these things with turkey: Hickory-smoked turkey legs, turkey and vegetable soup, turkey seafood gumbo, turkey chili, turkey salad, turkey neck stew, turkey ribs, turkey bacon, Cajun-fried turkey wings, turkey burgers, turkey pitas, turkey tails, turkey wing bites, turkey meatloaf, turkey meatballs — the menu posted over the eatery's Plexiglas counter marches on for pages with seemingly endless dishes created from the bird. It's enough to make you rub your eyes and look again.
And it's good too. Our turkey pita comes loaded — so loaded the diner will have to eat some with a fork before the pita will fold. It's covered in melted cheese and caramelized onion, and a roaming fork lifts large slices of white turkey meat to reveal each new discovery: banana pepper, pickles, tomato, and more.
It's all the creation of Detroiter George Lyles, 62, more commonly known as "Turkey George." When he comes out of the kitchen to meet us, a number of customers greet him joyfully. He takes a seat with us, telling us he has almost recovered from his busy Thanksgiving season, during which he sold more than 600 roasted turkeys, ranging from 12 to 14 pounds. That's almost four tons of turkey.
Metro Times: How did this all start?
George Lyles: I moved here from Yazoo City, Mississippi in the '70s. I graduated from Jackson State University with a degree in accounting, so I worked for one of the local places as an accountant before I started this business.
MT: What is it about turkey that caught your eye and made this place a success?
Lyles: Well, like I said, I'm from the South. A lot of food that they do in the South, they really just don't do here. Since I left my job as an accountant, I knew I had to do something else. I thought that maybe doing a restaurant would be a good idea. So, what type of restaurant? I thought maybe turkey would be a unique idea, because I didn't see that anywhere. At that time, I had already lived in Detroit about 13 years, and I had never seen that. But I would always go back home to visit my parents and siblings, and different things about turkey would pop up: Cajun-fried turkey wings, turkey legs, turkey burgers. At the time I started this restaurant, none of that was happening here. You rarely even heard of a turkey burger. Once we started putting together the entire concept, we were like, "Hey, there's nothing like this here." It was almost like a new path that no one had gone down. I just thought at the time it would be a unique concept, and it turned out to be. It's not like those fish place or rib places that you see all over everywhere; we're turkey. We stick to all turkey products. We have Cajun-fried turkey wings, smoked turkey legs, turkey burgers, turkey ribs, smoked turkey sandwiches. And now I've noticed a lot of the other restaurants are going into some of the things that we're doing. I don't want to say they're copycats, but they're seeing that these products really work in a restaurant setting. I see restaurants now selling Cajun-fried turkey wings. That was unheard of before we started doing it, as well as Cajun-fried wing bites.
MT: What are those?
Lyles: Now, that was a concept that we came up with because the ladies didn't like the big turkey wings, but they liked the taste. So we came up with the idea of chopping the turkey wings, so they would be a bit daintier to eat for females. Now I see people are doing that also. Not that we care, but …
MT: You were there first.
Lyles: And it shows, by us being there first, they still have a lot of catching up to do.
MT: How far do people come to eat here?
Lyles: We have people coming in from Ohio on a regular basis. We have people come in from Grand Rapids, Flint, Pontiac, of course. People come from all over the immediate area to eat here. We have a lot of former neighbors come by and say, "Hey, I moved to Northwest Detroit, but I still have to come by to get the turkey-grilled wings because I can't find them anywhere else." So we have people from all over coming in to get our product.
MT: You must know a whole lot of the people in the neighborhood. This place is an institution.
Lyles: I do, a lot of them by face. Most of the neighbors know me if I don't know them.
MT: When I saw you come out that door, I saw several people get excited and crowd you. There's something obviously warm here and something that is more than a store.
Lyles: Well, we try and make everybody feel welcome. We try to make them feel like family. We're always trying to see if we can assist them in any way with our menu. When you order here, we want you to make sure that you know what you're getting, because we're not like the common carryout restaurants in the city. We've come to know a lot of people in that regard, you know, by coming out, speaking with them, asking them if we can assist them, telling them what the wings would look like, what the burger is.
MT: How did you come by all these recipes?
Lyles: Well, like I said, I'm from down South, and a lot of the recipes that we have are really adapted from that region. I visit New Orleans a lot; I had the gumbo. They had a Creole gumbo in New Orleans, so what we did is we added turkey to it and we just kept the seafood in there. So it is another meat that we serve. We kept the seafood in there and we call it "Turkey Creole Seafood Gumbo." What we do is we go to different regions and if we see something that sounds interesting enough to put in the restaurant then we try and speak with those people or look it up online to see if that would be something that would be conducive here. So far, we've been pretty lucky.
MT: Some of them I've never seen before. What are turkey tails?
Lyles: That's the back of the turkey. They say it's the last part that crosses the fence. [laughs] They've become really popular. We found a way to prepare the turkey tails because, when you fry them a cold bird, they become real tender and sometimes the tails will fall off. When they'd fall off, my people would say, "Hey, can I eat this tail?" I'd say, "Go ahead, no problem!" Then we started reading up that there were all type of dishes with these turkey tails on them. So, I said, "Hey, you can't eat these turkey tails no more! We're going to have to start selling them!" True enough, people loved them. We buy them now, individually, apart from the turkey. We rotisserie wood-smoke them, and it comes out delicious. It has a little bit of fat in it, but they are excellent.
MT: How do you manage to sell 600 turkeys on one day?
Lyles: We try and prepare as many as we can close to the Thanksgiving date, but before that, we have a system where we go in and fry or smoke the turkey. We flash-freeze it, we put reheating instructions with them, and when they're reheated it tastes like we just fried them. That's one of the ways that we kind of keep up with the demand, because we can't do them all on Thanksgiving Day!
MT: It really says something when a place has loyal customers. You're going to be marking 20 years here in a couple of years. To me, that says that some place is special.
Lyles: I would say we try and be a part of the community as much as possible. A lot of times, different organizations call upon us for donations. We try and donate to a lot of churches. They just say, "Hey, I've come in and I've experienced the food you have there and I would like for you to do a donation to my church" or "I would like you to come in and cater an event at the church." Or even if it's just a nonprofit asking for some sort of donation. We try our best to do it, as long as it's not something way out of context. We have people from the radio station call us up every year to do a donation for the kids. In that case, we try to write checks. We try and give back if we can. And we've become familiar with a lot of the people and businesses in the neighborhood. We work with people across the street in the different stores. The grocery stores — sometimes we run a little short on things that we need that we can't get from our regular suppliers for whatever reason. Either they're closed or it's too late to get to place an order and we just deal with some of the local grocery stores. The businesses, as well as the people in the neighborhood, have a friendly, neighboring kind of relationship. We help them with things. Let say, for example, the store across the street might say, "Hey, I'm out of bags," so we'll give them a box of our plastic bags. Or, I might need change, and I'll say, "Eddie, I need change," so I'll send someone over and get change from him. It's really a good working relationship. If the banks are closed, then that's where I'll go.
MT: You all stick together. I imagine, it hasn't been the easiest thing to run a business during this period of time — given the disinvestment, the crime, things of that nature.
Lyles: Well, no, it hasn't been easy. I guess the start of any business wouldn't be easy anywhere. But, we're just, right now, happy for the new developments that are going on in the city right now. We really have high hopes for the M-1 Rail that's coming down, and also the development of new housing that we have behind us. All over on the east side of Woodward as well as the west side of Woodward, you see a lot of new developments. So, yeah it was hard back when we first started, but the future looks bright, and that's what we're kind of banking on.
MT: I would hope the people who stuck it out during the tough times get to reap some of the rewards if things turn around.
Lyles: I kind of think that's one of the things that's happening now, and you're not the only person that's recognizing that. We were awarded some funds from the NEIdeas Challenge for absolutely that reason: for being able to stick and stay during the tough times. So, not only are they recognizing the new businesses that are coming up, but they are also recognizing the individuals who were able to hang in there until this time. — mt
Turkey Grill is at 8290 Woodward Ave., Detroit; 313-872-4624; theturkeygrill.com.