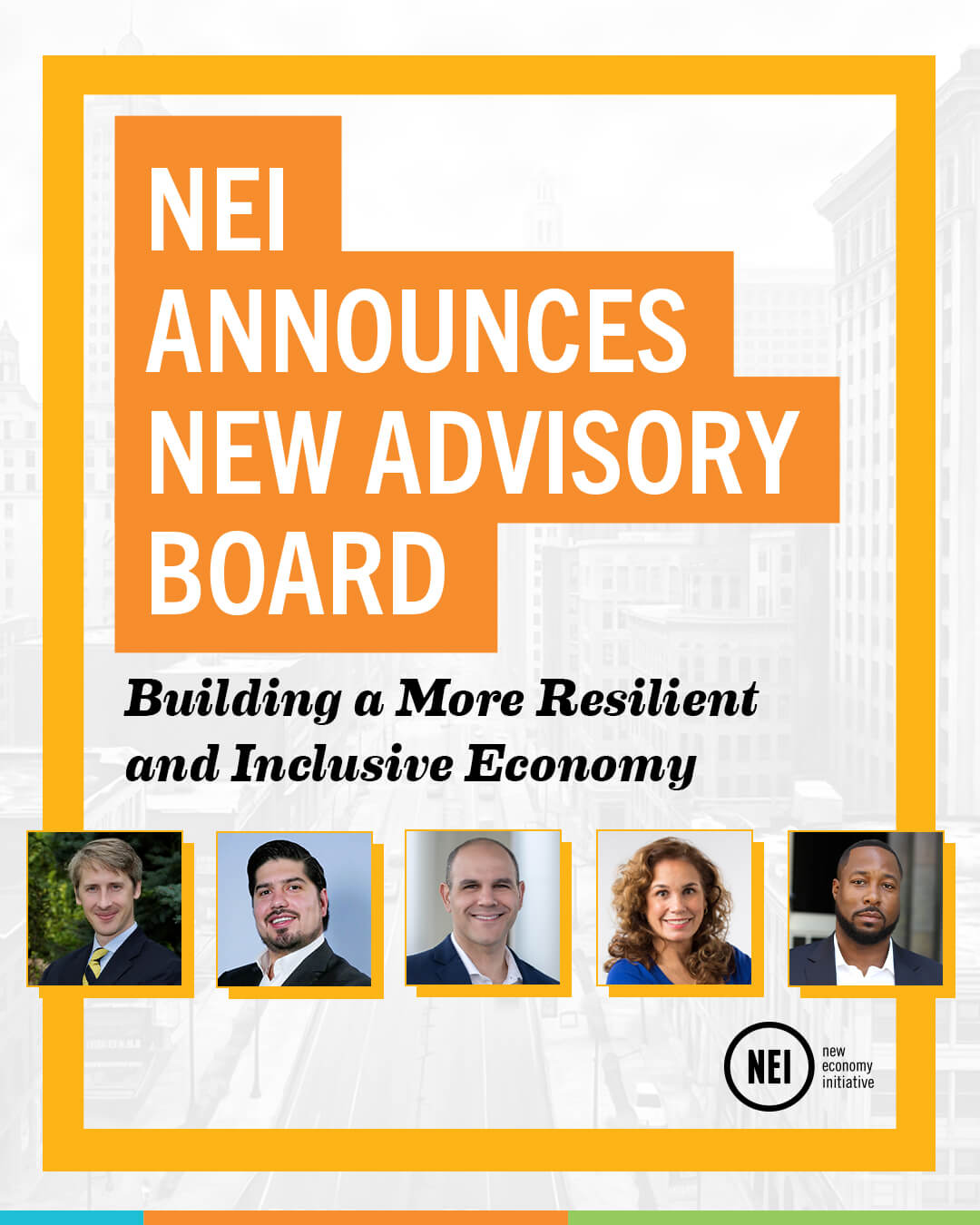 Today, the New Economy Initiative (NEI) announced it has created a new advisory board to help guide its strategy and programming to build a more resilient and inclusive economy by supporting small businesses in underserved populations and communities throughout Southeast Michigan. 
"This is a diverse and talented group of professionals who share a commitment to Southeast Michigan and offer unique expertise, perspective, and experience that will help guide our strategy as we work to create inclusive small business growth," said Wafa Dinaro, executive director of NEI. "Small businesses, particularly those of ten employers or fewer, have proven time again to be the best job creators. This advisory board will help ensure we're reaching a broader network of small businesses and providing them the support they need to thrive." 
The five-person volunteer advisory board will meet quarterly and provide recommendations to NEI leadership on how best to fulfill its mission of building a more resilient and inclusive regional economy. The five members include: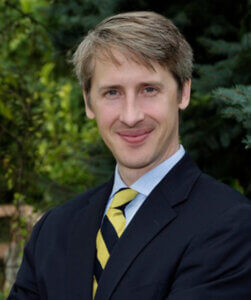 Paul Brown, Managing Director, eLab Ventures 
Brown is managing partner of eLab Ventures, a venture capital firm headquartered in Michigan with offices in Silicon Valley. Previously, Brown was vice president of capital markets at the Michigan Economic Development Corporation (MEDC), where he managed the bulk of the state's $2 billion 21st Century Jobs Fund investment portfolio and developed programs focused on increasing the availability of capital for businesses in Michigan. Prior to joining MEDC, Brown practiced law in the Manhattan office of Skadden, Arps, Slate, Meagher & Flom LLP. He serves on the University of Michigan Board of Regents, the Michigan History Foundation and the board of the Wolverine Mutual Insurance Company.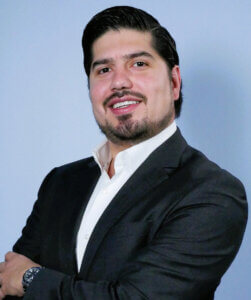 Jose L. Flores, Chief Executive Officer, Ancor Automotive 
Jose Flores, an esteemed leader in the automotive industry, currently holds the position of CEO at Ancor Automotive, a global Tier 1 supplier specializing in data management and automotive label solutions, headquartered in Michigan. Flores, a recipient of the prestigious 2023 DBusiness Magazine 30 in Their Thirties award, launched the Ancor Automotive Software Innovation Hub. This visionary initiative aims to attract top-tier talent in software design while simultaneously modernizing tracking and mobility capabilities for automotive companies across North America. Before joining Ancor, Flores held significant executive roles at the London Consulting Group, where he showcased his operational expertise in diverse industries spanning five countries. Flores actively participates in the MICHauto advocacy committee, where he plays a pivotal role in shaping automotive policy issues specific to Michigan. Additionally, he is an engaged member of the Detroit Regional Chamber, actively contributing to the community. Flores's philanthropic endeavors include involvement with the Michigan Science Center, where he strives to inspire and empower the next generation of leaders.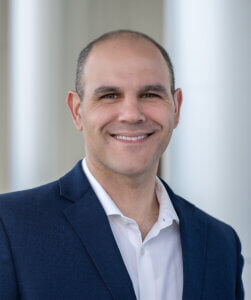 Khalil Rahal, Director of Economic Development, DTE Energy 
Rahal is the utility's first director of economic development and is responsible for attracting and retaining major industrial enterprises into DTE Electric's service territory to increase revenue, fund infrastructure and help keep prices down for DTE's customers. Prior to this role, he served as the chief administrative officer of Wayne County and the economic development director partnering with local municipalities and local, national, and international developers to bring jobs to the county through 75 projects that brought in approximately $4 billion, and included redeveloping key county properties such as McLouth Steel and Pinnacle race track. Previously, Rahal served as an assistant Wayne County prosecutor specializing in the Special Victims Unit. He is a graduate of University of Detroit Mercy School of Law with a bachelor's degree in political science degree from Grand Valley State University.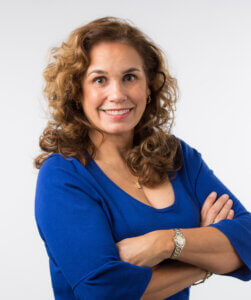 Maria Thompson, Venture Partner, Arsenal Growth 
A retired CEO with more than 30 years of experience, Thompson is venture partner for Arsenal Growth, an equity firm focused on the intersection of government, corporations, and emerging technology companies. Prior to that role, Thompson was president and CEO of T/J Technologies, Inc., a nationally recognized Michigan company for proprietary advanced battery technologies that she, her husband, Dr. Levi Thompson, and Dr. Michael Wixom founded in 1991. In 2021, she joined the Advisory Board of Our Next Energy (ONE). Thompson is also a Director of the Reko International Group, a Canadian public company. She is a member of the University of Michigan Technology Transfer National Advisory Board, the University of Michigan Ross School of Business Zell Lurie Institute Advisory Board, and the Community Foundation for Southeast Michigan.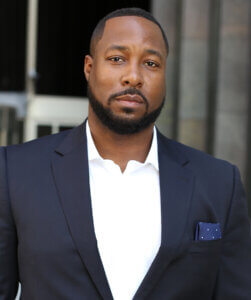 Nathaniel Wallace, Head of Civic Partnerships, Michigan Central 
Wallace is a visionary leader who brings nearly two decades of experience in entrepreneurship, business management, operations, and philanthropy to his current role at Michigan Central overseeing housing, arts and culture, philanthropic, community engagement, and partnership strategies for the 30-acre campus in Corktown. As previous director of Knight Foundation's Detroit office, Wallace demonstrated his expertise in creating and implementing strategies that drive equitable economic development, digital equity, public space, arts and culture, and Black leadership development initiatives. He currently serves on the Board of Governors for Cranbrook Academy of Art and Friends of African American Art at the Detroit Institute of Arts. 
About the New Economy Initiative
The New Economy Initiative is a philanthropic collaboration and initiative of the Community Foundation for Southeast Michigan that is working to build a regional network of support for entrepreneurs and small businesses. Its mission is to grow an inclusive culture of entrepreneurship in southeast Michigan that benefits all residents and strengthens the regional economy. Learn more at https://neweconomyinitiative.org/. 
About the Community Foundation for Southeast Michigan
The Community Foundation for Southeast Michigan is a full-service philanthropic organization leading the way to positive change in our region. As a permanent community endowment built by gifts from thousands of individuals and organizations, the Foundation supports a wide variety of activities benefiting education, arts and culture, health, human services, community development, and civic affairs. Since its inception, the Foundation has distributed more than $1.3 billion through more than 80,000 grants to nonprofit organizations throughout Wayne, Oakland, Macomb, Monroe, Washtenaw, St. Clair, and Livingston counties. For more information, visit www.cfsem.org