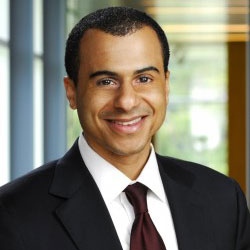 Benjamin Kennedy is managing director of The Kresge Foundation's American Cities Practice, while also serving as managing director of the foundation's Detroit Program.
Benjamin's leadership of the American Cities Practice and Detroit Program involve overseeing grantmaking and social investments aimed at helping Detroit and other American cities grapple with a wide array of socio-economic issues.
Prior to joining Kresge in 2009, Benjamin was with JPMorgan Chase in Johannesburg, South Africa, where he was an associate on the firm's mergers and acquisitions team.
He also worked as an economic and political analyst within IHS Global Insight's sub-Saharan Africa country intelligence group. His responsibilities included sovereign credit risk analysis, policy research and macroeconomic forecasting.
Benjamin earned a master's in business administration from the Harvard Business School and a bachelor's in economics from Morehouse College in Atlanta.
Benjamin was named Crain's 40 under 40 class of 2015, which recognizes leading young professionals in Detroit.