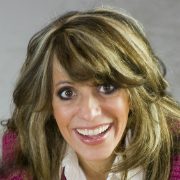 Lydia Gutierrez is the president of Hacienda Mexican Foods, located in Southwest Detroit. With over 20 years of manufacturing experience Lydia understands what it takes to start-up and grow a business. She is a dedicated advocate of her community, a role model and a single mother. Lydia, began her career with her late husband Richard who passed on the spirit and passion of entrepreneurship. Through Richard, Lydia learned to make great tortilla products and administration of the business. After his untimely death in 2005, it was faith, family, and employees that gave Lydia the strength to carry on Richard's legacy.
She is a product of SW Detroit, and is part of its' Rebirth. Important to her are her employees and being in a neighborhood where they can walk or ride their bike to work. She has been recognized by many organizations for her commitment and advocacy to building a better Detroit and Hispanic community. Awards she has received include the "Dreams Within Our Reach" and "Junipero Serra" awards by the Society of Hispanic Professional Engineers (SHEP) for her pioneering spirit and dedication to her community; "The Bagley Avenue Award for Latino Heritage" from the Southwest Detroit Business Association for investment made in SW Detroit; and the "Executive Director's Award" for outstanding commitment to the Latino community. The "Small Business of the Year" award from Univision; and "Hispanic Entrepreneur of the Year" from the Michigan Commission on Spanish Speaking Affairs. "Entrepreneur Spirit" award by Wayne State University; the 2011 Gene L. Brazell "Community Role Model" award by Henry Ford Community College; "Women of Achievement" by Vista Maria and the "Hero's of the Neighborhood" award by Urban Neighborhood Initiative (UNI).
She currently serves as the chair of the Business Improvement District, for SW Detroit, and is past chair of the Southwest Detroit Business Association. She is a board member of Henry Ford Hospital Systems and Detroit Food Policy Council. She has served as board member of Tortilla Industry Association (TIA); Food Policy Council State of Michigan; and a co-chair of the Detroit Works Project.
She attended Lee University and studied business administration.