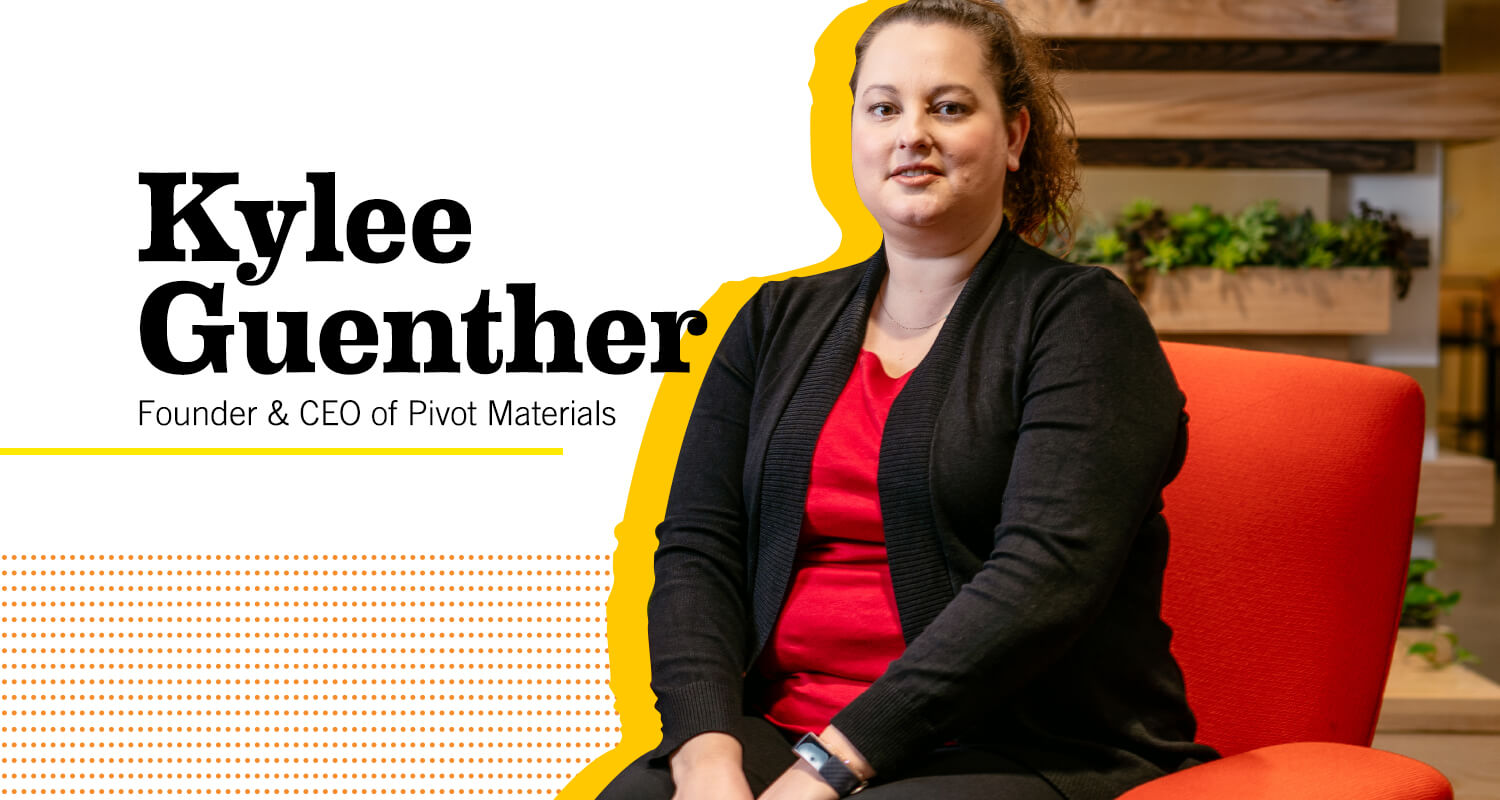 Kylee Guenther and Pivot Materials are working to transform the plastics industry.
Kylee Guenther is a self-described hippy, the kind of person who will talk your ear off about carbon emissions and the degradation of oceans. For this reason, she never thought she would follow in the footsteps of her father, a plastics industry veteran.
So why did someone so obsessed with environmental issues start a plastics company? Because she wanted to reform it. Guenther is the owner of Pivot Materials, which makes a bamboo composite that can be converted into any number of products that are significantly more sustainable than all-plastic counterparts. Her path to starting her company was oblique. In college she majored in political science then went to graduate school for management. After graduating in the height of the Great Recession, she couldn't find a local job and had  to leave the state for a governmental position in Ohio.
During her time away, she pined for home and decided to return and start a business. "I wanted to do something here—to have a positive impact so others wouldn't have to leave the state like I did," she said. She had learned a lot from her father about plastics and knew there was huge potential for eco-friendly reform in the industry. She just needed the right material. She landed on bamboo. Growing at a rate of up to 35 inches per day, bamboo is the fastest growing plant in the world. According to Guenther, it's "abundantly available," growing on over 14 million square miles of earth's surface.
" I wanted to do something here—to have a positive impact so others wouldn't have to leave the state like I did."
The plant also has many environmental benefits. One stalk of bamboo absorbs about as much C02 as an entire conifer tree, and it grows robustly without the use of herbicides, pesticides, or fungicides. It also helps reduce soil erosion. Plastics, on the other hand, have a parallel (if unnatural) abundance, but none of the environmental benefits. According to Guenther, only 9 percent of all plastics are ever recycled; the rest end up in landfills or waterways. "[The problem with plastics] is a combination of short life expectancy and no efficient means for dealing with their end of life," she says.
And yet, their ubiquity makes it hard to eliminate them altogether from our lives. That's why instead of completely revolutionizing the plastics industry, Pivot makes composites that are 30 percent bamboo to greatly reduce the waste and environmental impact of plastic products. They're also 100 percent compostable.
"You could throw our product in a hole in your backyard, and it will actually break down," Guenther said.
The composites come in tiny pellets that resemble hamster food. These can be injected into molds of practically any product that would otherwise be all plastic—from plates and cups to car parts and packaging. No special tooling is needed to make these products, either. Running a business like this without a background in chemistry or engineering has required Guenther to learn a lot on her own.
On the science side, she receives help from her father. On the business side, she relies on support from Metro Detroit's entrepreneurial ecosystem. Her first stop was the Macomb-OU INCubator, a collaboration between Macomb County and Oakland University servicing high-tech businesses in southeast Michigan. Guenther describes the accelerator as a "really good starting place " where she was introduced to two important mentors.
Pivot also won a Motor City Match grant to help find and renovate a warehouse and office space in Detroit, which Guenther hopes to open in 2019. Guenther is also a member of the Junction 440 co-working community at TechTown Detroit, where she's received one-on-one mentoring and networked with other startup founders. "Every time I start something new and look at next steps, there's someone here I can talk to," she said. Most recently, she's participated in Inforum's inGAGE program, which provides networking opportunities and other support services for women entrepreneurs.
As a woman in a maledominated field, Guenther says she's felt disrespected on several occasions, but being part of inGAGE has provided her with tools and a support system to combat biases. With all this support, Pivot has a lot of momentum for the next year. In 2019, the company will be expanding to other natural, biodegradable fibers like rice waste and hemp. It's also launching a line of home and houseware products made from its bamboo composite.