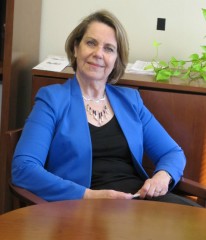 Wayne State University Division of Research
---
Newswise — DETROIT — Hilary Ratner, Ph.D., vice president for research at Wayne State University, announced the appointment of Joan C. Dunbar, Ph.D., of Bloomfield, Mich., as associate vice president of technology commercialization in the Division of Research. Dunbar assumes her new position effective immediately. Her appointment comes after a competitive national search in which she emerged as the transformational leader the university sought.
In 2012, Dunbar joined WSU's Division of Research as interim associate vice president of technology commercialization. In just a year, Dunbar nearly doubled faculty invention disclosures, facilitated the pipeline of nine start-up opportunities with the anticipation of several companies launching in the near future, initiated a mentors-in-residence program, created an innovation fellows program, began the Technology Development Incubator, and strengthened partnerships with WSU's TechTown. These significant achievements were powered by grant funds, projected to be $2.5 million over a three-year period that Dunbar secured from the New Economy Initiative (NEI).
"The grant from the NEI has allowed Wayne State to re-invent technology commercialization on our campus," said Ratner. "With the help of the NEI, Dr. Dunbar is re-energizing our faculty and students to translate their research in even more productive ways that benefit not only the university but the region, state and nation as well.