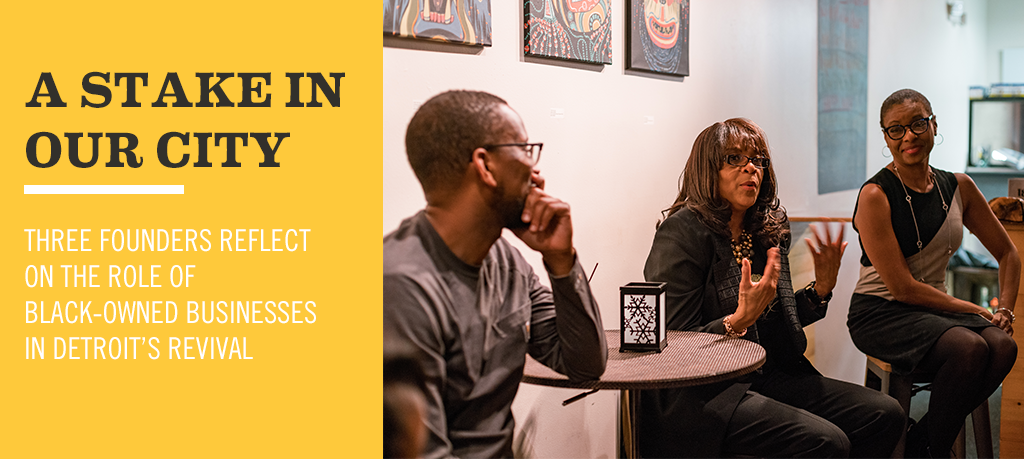 A few years ago, the New Economy Initiative launched a new event series called High Growth Happy Hour. We invited entrepreneurs who were scaling companies in southeast Michigan to give informal talks about their experiences, with the goal of showcasing local successes, discussing common challenges, and getting experienced and aspiring entrepreneurs to network in a casual environment.
With a few dozen events behind us, we're excited to announce the series has returned for 2018, Click here for our spring schedule.
At our first event of the year, which took place February 27 at the Griot Music Lounge in Midtown, we brought together three founders of businesses invested in rebuilding Detroit: Brian McKinney of Gayanga, Adrienne Bennett of Benkari Mechanical, and Carla Walker-Miller of Walker-Miller Energy Services. We asked them to discuss the role that black-owned businesses can play in the building boom taking place in Detroit's greater downtown. Here are some of the insights they offered.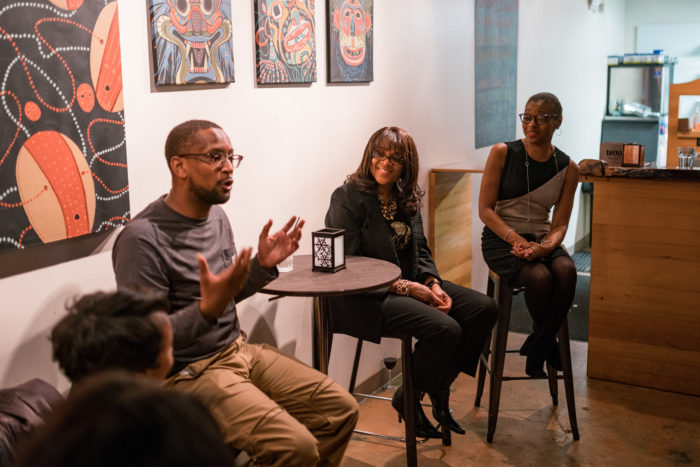 Don't be afraid to be the first in your field.
Adrienne Bennett was the first African-American woman in the country to become a certified master plumber. Ever since she was a girl, she'd loved math and science, and that passion gave her the confidence to pursue a career in a male-dominated field. She realized that just because there aren't people who look like you in a given field doesn't mean the work has to be mystifying. She pointed out that some aspects of plumbing are like baking a pie, like when you tighten the crust to make sure specific gases and liquids don't escape.
Adrienne now runs a rapidly growing mechanical contracting company that's responsible for the plumbing at several large-scale developments in Detroit including Little Caesars Arena and the Hudson's Site. She said she speaks out to show others they can be groundbreakers, too.
Skilled trades work is always in demand and can create jobs for Detroiters.
Hiring Detroiters is a priority at Gayanga, Benkari, and Walker-Miller Energy. In fact, one of the reasons Brian McKinney started his company was to create more opportunities for people of color, pointing out that black-owned businesses tend to hire black employees for two out of every three jobs they create. Bennett and Walker-Miller agreed that a major way to create jobs for black Detroiters was to grow black-owned firms.
The trades and construction can be hierarchical, Walker-Miller pointed out, but that shouldn't put people looking to enter the field off. You may start by holding a sign on a job site, but there's always room for advancement, and the pay is competitive.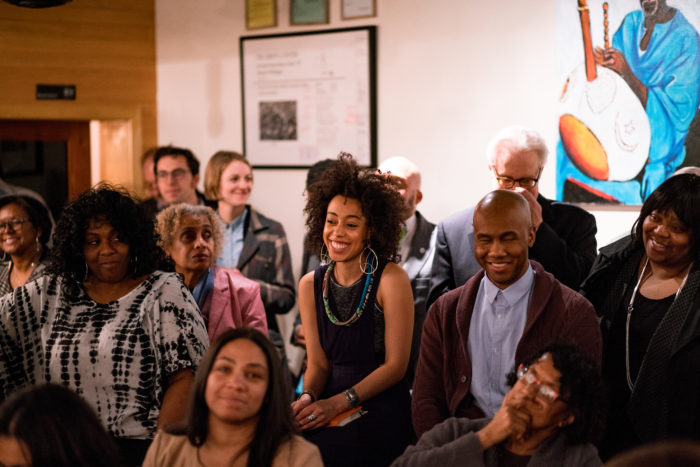 There's room for innovation in the trades.
Brian McKinney had little experience in contracting before starting Gayanga, but he saw an opportunity to bring his experiences in technology to the trades. As a demolition contractor for the city of the Detroit who has a tech background, he sees how collecting data can provide more visibility into the world of infrastructure and could transform the building industry. His nonprofit, Journi, prepares young people of color for careers in coding, experience he shows can be applied to diverse fields – even the skilled trades.
We're looking forward to seeing you on March 28 for our next event, where we'll hear from founders of local food brands that are taking the nation by storm.