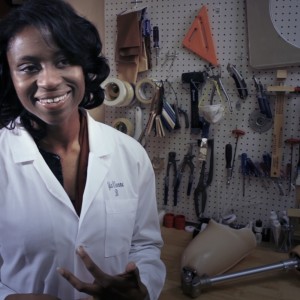 Above and Beyond Orthopedics plans to use a grant it won from the recent NEIdeas competition to add a key piece of equipment and create more jobs.
The 3-year-old prosthetics company won the $2,000 late last year, which awards grants to Detroit-based businesses looking for seed capital to grow. The money will go toward the purchase of an oven that will allow the Riverfront-based company to bring more of its production to Detroit and hire a few more employees.
"It (the oven) helps us do in-house fabrication of prosthetics instead of outsourcing it to other states," says YaVonne Money, owner of Above and Beyond Orthopedics.
Money is a native Detroiter and a graduate of Murray-Wright High School and Wayne County Community College District. She spent several years out of state to learn about prosthetics. She came home three years ago to open her business with an ambition of doing right by the community that raised her.
"I felt like I had a need to give back to the people who helped become the individual I am today," Money says.
Today Above and Beyond employs four people after hiring a biller over the last year. Money plans to hire a couple more later this year soon after her new oven arrives.
Source: YaVonne Money, owner of Above and Beyond Orthopedics
Writer: Jon Zemke
Read more about Metro Detroit's growing entrepreneurial ecosystem atSEMichiganStartup.com.