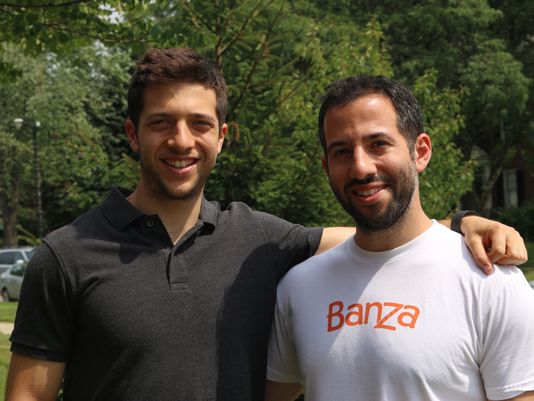 The Accelerate Michigan half-million-dollar prize is the big one, bringing all sorts of recognition in addition to the cash itself. The Accelerate Michigan Innovation Competition is an international competition designed to highlight Michigan as a robust locale for business startups. The contest is put on by a consortium of Detroit-area business accelerators and sponsors including Ann Arbor SPARK, Automation Alley, Macomb-OU INCubator, TechTown, and the New Economy Initiative among others.
"We're very excited and of course very grateful for the award," CEO and co-founder Brian Rudolph said Friday.
Rudolph, a 2012 graduate of Emory University in Atlanta, came to Detroit a few years ago as part of the inaugural class of Venture for America Fellows, a non-profit program that inserts promising young people into cities like Detroit that badly need innovation and entrepreneurial spirit. Having studied finance at Emory, he found it wasn't long before he began thinking about a new startup company of his own.
At first he thought about launching a technology-based firm. But then his food-based fascination kicked in.
"There was this pasta I was making for myself in my kitchen as a hobby for myself, just out of a personal desire for a better pasta," he said. "At some point it really clicked for me that I shouldn't be the only one eating this pasta."
The chickpea-based recipe is healthier and higher in protein than wheat-based pastas found on the shelves.
"So many people love pasta like I do but would like to have a better version of it so they could eat it more often," he said.
Brian recruited his brother Scott, who was just leaving a job in private equity. Brian Rudolph is also the first VFA fellow to hire another VFA fellow, Avery Hairston, a Cornell grad. The firm now employees about two dozen workers.
"The half million is going toward increasing our capacity," Brian said. "There are some really great opportunities we'd like to be able to go after and our only limitation is our capacity at the moment. This is going to allow us to be more efficient as a company and as a result to be able to take on some of those larger opportunities."
The brothers operate from a home they share with other Venture for America alumni at 760 Virginia Park St. in Detroit's New Center district. They manufacturer at a plant in out-state Michigan but hope the cash prize will help pay for a move into Detroit or at least nearby.