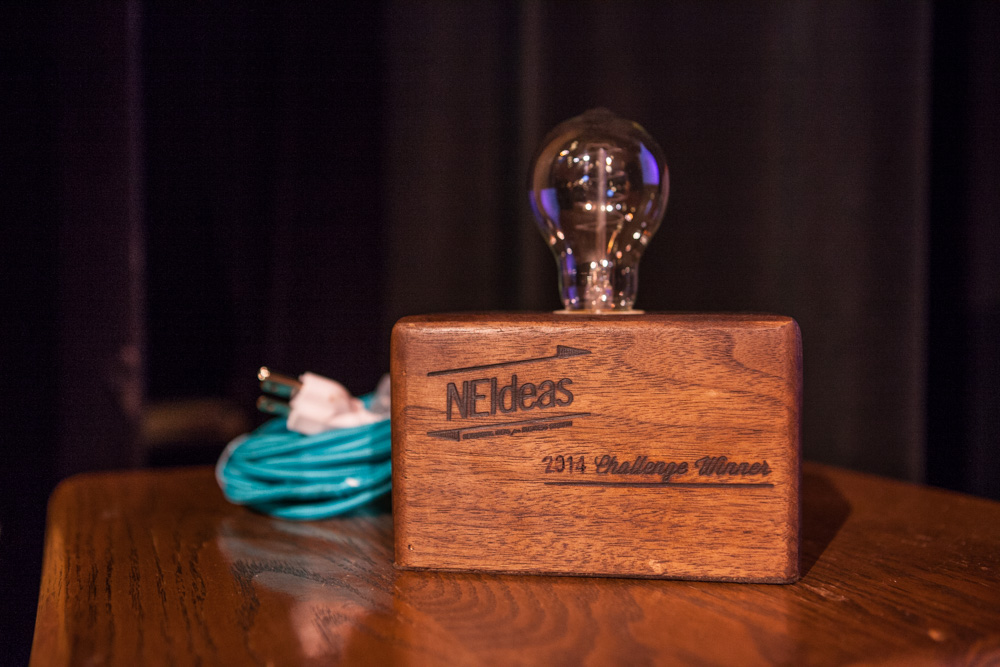 Detroit – — The New Economy Initiative awarded $10,000 grants Monday to 30 small businesses from Detroit, Hamtramck and Highland Park.
The NEI, a special project of the Community Foundation for Southeast Michigan, gave away the $300,000 at a private awards ceremony at the Gem Theatre downtown. The companies that were honored ranged from restaurants, urban farms and grocery stores to retail, printing and coffee shops.
"Most of these small businesses were under the radar screen, but critical for their neighborhood's growth," said David Egner, executive director of the NEI. "We're not looking at the start-ups. We're concerned about the been-ups and how they can get help for that business."
The competition, called NEIdeas, launched in May 2014 to honor the best ideas for business growth. The competition has two categories: the 30 $10,000 grant winners for companies that make less than $1 million annually and two $100,000 grants for businesses that make between $1 and $5 million annually. The $100,000 winners will be announced in November.
Besides the 30 winners announced Monday, two other "People's Choice" winners will be chosen by a public vote by text message. The four nominees are: Dexter Quality Cleaners, Above and Beyond Orthopedics, Ellis Island Tropical Tea and Motor City Java and Tea House.
Egner said the foundation has secured funds to continue for the competition for the next three years.
City Council President Brenda Jones and Mayor Mike Duggan spoke at the awards ceremony Monday night.
Duggan saluted the businesses for their contributions to the neighborhoods.
"You stuck it out against the odds," said Duggan. "You're such a key part of our future."
The NEIdeas competition was operated in partnership with the Detroit Economic Growth Corp. Nearly 600 businesses applied.
"The application process was very accessible," said Abir Ali, manager of the New Economy Program. "Practical ideas were just as strong as sexy or innovative ideas."
Alicia's Cleaners and Alterations in Hamtramck was one of the businesses that received a grant. The business wanted to diversify with new services and provide mold and water restoration services, which became important after the August floods in Metro Detroit.
The family all sat down together to apply for the grant, said Shaffwan Ahmed.
"A lot of people have things that hold special memories for them," said Ahmed, whose father, Kamal, started the business in 1997. "Restoring it and giving it a new life is a good thing to do for people."
The $10,000 grant winners include:
■Alexander's Total Lawn Care, landscaper, Detroit: Purchase a small dump truck to better position the business for bidding competitively on shopping centers, large companies, apartment complexes, city parks, etc
■Alicia's Cleaners and Alterations, dry cleaning and alterations, Hamtramck: Add a same-day press, fire/water/mold restoration services, up-to-date point of sale register/ticketing system and purchase an industrial sewing machine.
■Anthology Coffee, coffee roaster, Detroit: Purchase a new commercial roaster to expand wholesale operation.
■Brother Nature Produce, niche farm, Detroit: Invest in a farm tractor to add tilling services for Detroit residents and other urban farmers interested in converting land for growing.
■Buffalo Street Farm, farm and agriculture program, Detroit: Purchase and prepare additional land to establish Detroit's first grape vineyard.
■Café con Leche, independent coffee house, Detroit: Purchase equipment and train staff to bring roasting process in-house, and expand overall product line.
■City Bird, retail store, Detroit: Reinvent City Bird through a redesign that expands the store's retail floor area by 50 percent, incorporating new and custom fixtures, and more efficient counter space and storage.
■Corridor Sausage Co., artisan sausage purveyor, Detroit: Make significant improvements to production equipment by replacing aging and undersized meat grinder and mixer to more than double daily production capacity and greatly expand distribution.
■Dijana Creative Sewing and Embroidery, custom design studio, Detroit: Purchase an industrial sewing machine, and secure space and marketing expertise to expand the businesses' Industrial Sewing Machine Operator training program.
■Dulce Diamante Garden, urban farm, Detroit: Purchase and construct cold frame greenhouses, and add fans and heating units to facilitate all-season growth.
■Food Field (Peck's Produce), urban farm, Detroit: Open and operate a shipping-container café featuring seasonally available products. The café will be equipped with cold storage, water and solar electricity, and include indoor and outdoor seating.
■G + C Style Barber Shop, barber shop, Detroit: Add a repair service for barber clippers and sharpening tools in addition to a shoe grooming service.
■GLEEOR, Inc., construction, landscape and property management, Detroit: Purchase a skid steer loader to increase market share and competitive advantage in snow removal, landscaping and property maintenance.
■Graham's Printing, Inc., union printer, Detroit: Purchase additional printers to enable overall efficiency and establish a do-it-yourself printing station; install lighting and a camera monitoring system outside of the building to improve security.
■House of Morrison Shoe Repair, shoe repair and leather care enterprise, Detroit: Establish an apprentice program for under-employed residents to be trained in the craft of fine leather goods restoration, customer service, and entrepreneurship, and allow the opening of future satellite locations; purchase point-of-purchase software to increase efficiency.
■Mootown Ice Cream & Dessert Shoppe, ice cream and dessert shop, Detroit: Establish an all-natural soda fountain service by purchasing equipment and supplies, and expanding countertop for added seating; add point-of-sale system to accurately track sales and inventory.
■OIC Movies, American Sign Language Video Producer, Detroit: Increase distribution by developing a digital app for users to access content.
■Omega Wiring, wire system installation and repairs, Detroit: Acquire an additional service vehicle and a single-axle trailer to haul equipment and complete more jobs in fewer trips.
■One Custom City, screen printer, Detroit: Purchase additional print equipment, including larger capacity screen printing press, flash dryer, and screen rack, as well as upgrade exposure and wash-out areas to expand wholesale business
■Pronko Enterprises, food manufacturer, Hamtramck: Invest in food manufacturing equipment including an electric dicer, a heated hopper and transfer pumps with piston fillers to advance to a more automated processing facility.
■Red Panda, guitar effect design and manufacturer, Detroit: Secure a UV LED printer to bring a key part of the manufacturing process into its Detroit workshop.
■Rising Pheasant Farms, urban farm, Detroit: Install a radiant heating system in the greenhouse to increase growing capacity while minimizing utility costs.
■Seabird Fresh Fish and Chicken, fresh seafood and chicken market, Detroit: Provide healthier alternatives for customers by investing in a commercial oven and grill, a commercial steamer (as an alternative to fryers) and a cooler to stock packaged salads and other healthy options.
■Shep's Barber & Beauty Shop, salon and barbershop, Highland Park: Purchase additional salon chairs, repair existing stations and remodel to expand services to include nails, hair weaving and braiding.
■Small World Development Center, child development center, Detroit: Give the building a facelift by repairing the doors, painting the inside, installing better lighting, updating signage, investing in a security system, and purchasing tablets, computers and more equipment for indoor/outdoor play time.
■Stan's Grocery, grocery store, Hamtramck: Purchase a walk-in freezer to allow for required storage to meet peak demand times, particularly around festivals and holidays; hire a marketing strategist to consult on web, digital and print marketing.
■Sweet Potato Sensations, bakery/café, Detroit: Purchase equipment, a cook station, and increased seating to add a savory menu to offerings.
■The Turkey Grill, restaurant, Detroit: Add a new computerized point of sale system, new exterior signage, additional lighting, and additional cooking equipment to increase street-front visibility and overall productivity.
■Tijuana's Mexican Kitchen, mexican restaurant, Detroit: Purchase a convection oven to help attract and fulfill larger-scale catering opportunities.
■Touch of Class Restoration, commercial and residential construction, Detroit: Invest in overall physical improvements, purchase new remediation equipment and hire a marketing consultant to expand services and increase customer base.
Lauren Abdel-Razzaq, The Detroit News
lrazzaq@detroitnews.com (313) 222-2127