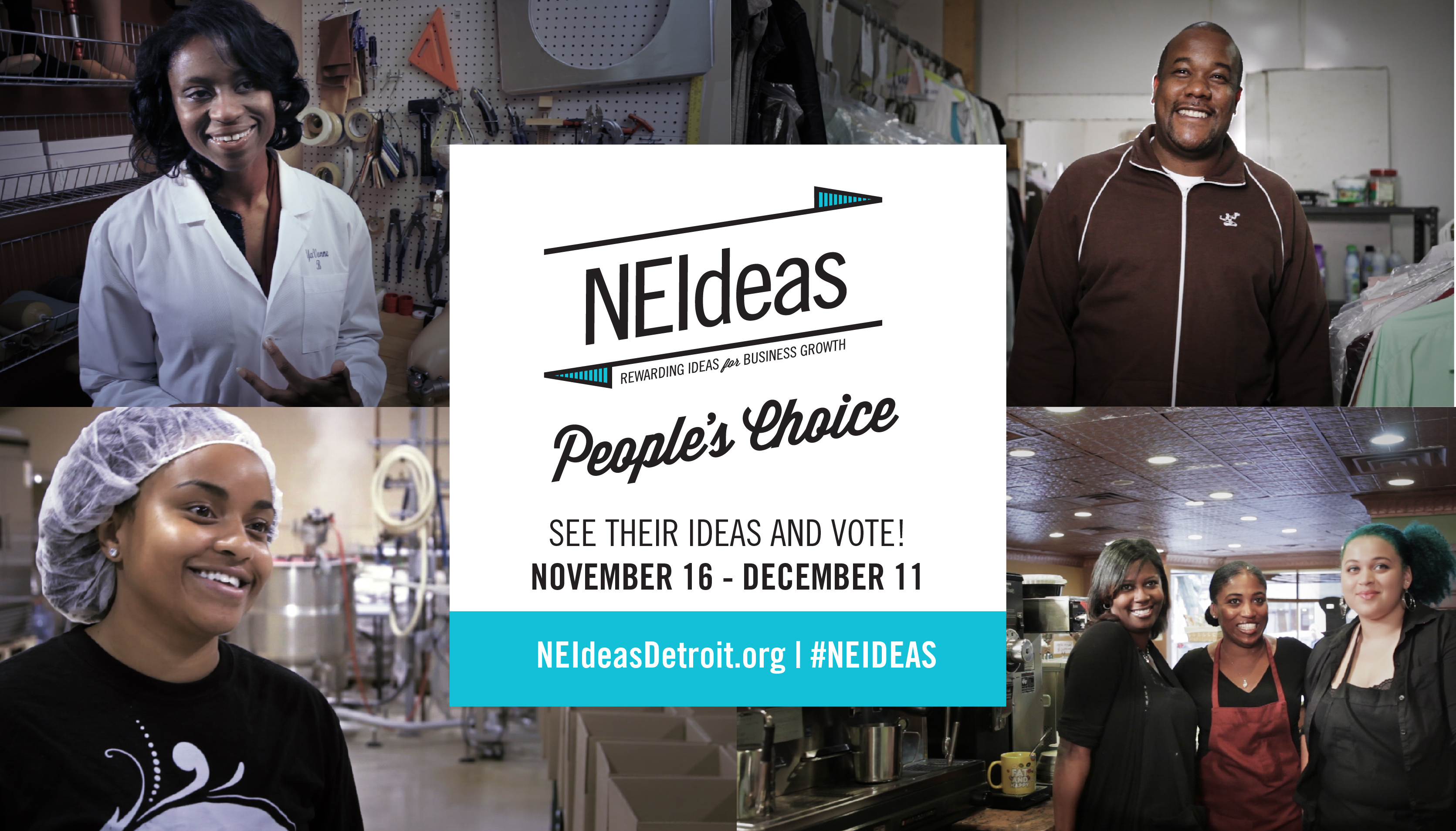 Detroit's New Economy Initiative Adds People's Choice Awards to First-Ever NEIdeas $10k Challenge: Rewarding Ideas for Business Growth
Voting for the two $10,000 NEIdeas People's Choice small business winners begins Sunday, November 16
DETROIT (14 November 2014) – New Economy Initiative (NEI), a special project of the Community Foundation for Southeast Michigan (CFSEM), officially announced today that four small businesses in Detroit will have the opportunity to win two $10,000 grants for their business growth ideas in the first-ever NEIdeas "People's Choice Awards."
The contestants include: Above and Beyond Orthopedics, Dexter Quality Cleaners, Ellis Island Tea and Motor City Java & Tea House. The four businesses were runners-up in the recent NEIdeas $10k Challenge: Rewarding Ideas for Business Growth, where 30 small businesses across Detroit, Hamtramck and Highland Park were awarded $10,000 grants to grow their businesses.
"We were impressed with so many of the ideas that came from our nearly 600 applicants, that we wanted to cast the net even wider and allow the community to have a voice in our next two NEIdeas winning businesses," said Dave Egner, executive director, New Economy Initiative.
Above and Beyond Orthopedics(Vote code: 945841)
Prosthetic Services – Detroit – established in 2011
Idea: Purchase an electric convection oven to allow for in-house custom prosthetic and orthotic fabrication.
Dexter Quality Cleaners(Vote code: 945840)
Dry Cleaning and Laundry Service – Detroit – established in 2002
Idea: Invest in physical improvements to the interior and exterior of the business, marketing, and maintenance and enhancement of their delivery van.
Ellis Island Tea (Vote code: 945839)
Natural Beverage Company – Detroit – established in 2008
Idea: Hire both a team of brand ambassadors and a marketing consultant to promote the company's unique blend of hibiscus tea.
Motor City Java & Tea House(Vote code: 945838)
Coffee Shop – Detroit – established in 2010
Idea: Purchase a new espresso machine, a point-of-sale system, a video surveillance system, and marketing tools. 
The public can begin voting for the NEIdeas People's Choice on Sunday, November 16th through three different methods: texting the six-digit vote code of the nominated business to the number 22333; tweeting the vote code to @poll; and by visiting the website www.NEIdeasDetroit.org and selecting the business name. Each person can submit a vote through each voting method once during the open voting period.
Voting will conclude on Thursday, December 11th at noon with the final opportunity to vote taking place live during a Detroit SOUP event beginning at 6 p.m. that evening at Jam Handy.  The four business owners will present their ideas to the live audience and then the audience votes will be combined with the digital votes and the two grant winners will be announced that evening.
More information and videos about each business and their ideas can be found at www.NEIdeasDetroit.org.
About NEIdeas: Rewarding Ideas for Business Growth              
NEI launched NEIdeas in May 2014 to celebrate existing businesses in Detroit, Hamtramck and Highland Park and reward those with the best ideas for business growth. The two-tiered challenge offered a total of $500,000 in cash rewards and was open to small businesses at least three years or older.  The two types of awards included: $10,000 for 30 businesses grossing under $1 million annually and $100,000 for two businesses that gross between $1 and $5 million annually.  The $100k challenge winners will be announced in late November.
NEIdeas is operated in partnership with the Detroit Economic Growth Corporation (DEGC). DEGC headed up the jury process and an outreach program that featured more than two dozen "Ambassador" organizations and institutions throughout all three cities that provided small businesses with information and guidance throughout the application process.
About New Economy Initiative
Since 2009, NEI has awarded $85.3 million in grants, while exposing more than 80,000 individuals to entrepreneurial services, and helping to create more than 1,200 new companies and 10,300 new jobs in the Southeast Michigan economy. In addition, more than $578 million was leveraged into the entrepreneurial ecosystem through not only entrepreneurs themselves, but also through the grantees and service providers.
The work of NEI has also helped to bring out 716 patents and invention disclosures in the region and exposed more than 250 business ventures to 80 local and national investors. In addition, Accelerate Michigan, an international business competition developed by NEI, has led to more than $4 million distributed in awards and, in 2013 alone, exposure for those businesses to 70 venture capitalists representing $1 trillion in capital.
 ###
About The New Economy Initiative
Visit neweconomyinitiative.org