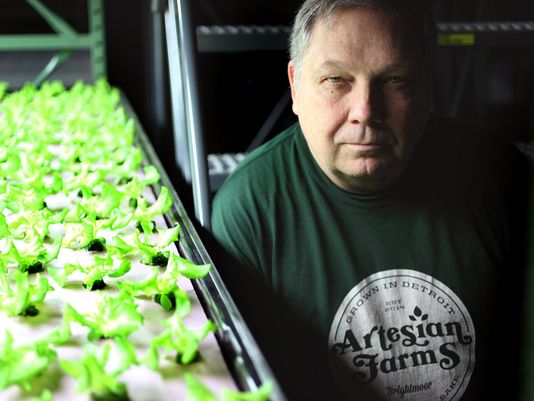 They will get $10K and $100K to expand firms in program that links to property owners
Detroit's hopes of nurturing a small-business entrepreneurial ecosystem took a big step forward Tuesday with the first cash awards in Mayor Mike Duggan's Motor City Match program.
The 10 winning businesses will receive grants ranging from $10,000 to $100,000 to expand their businesses. Winners included a variety of firms including a graphic design and printing firm called Hi Def Graphfxs to Mama Rita Foods, a restaurant and wholesale distributor of Mexican foods.
One of the cash winners, J&G Pallets, received a $100,000 grant to help the firm expand to a third location at 6500 Mack Avenue. The firm manufactures and refurbishes wood pallets used in shipping and warehousing.
"We were going to do this project with this or without this, but this makes it a lot easier," said Geraldine Wooten, the firm's president. "We're very excited. We've been in the city all our lives, through all the ups and downs, and we're not going no place. This is our home."
Another winner, Jeff Adams of Artesian Farms, an indoor agriculture operation in northwest Detroit that uses vertical racks to grow vegetables in hydroponic trays, will used his $55,000 cash grant to greatly expand his operation.
"It's got a lot of potential for the city because this is a movement that's is not going to stop, vertical hydroponic growing in urban areas," he said. "We can scale this up throughout the city and then we can start to get all of our food locally as opposed to bringing in it in from California, Arizona."
Under the Motor City Match program, the city plays go-between to pair up entrepreneurs and small businesses that need space with property owners who have buildings that need new tenants. The program focuses on the city's traditional neighborhood retail corridors. Besides the 10 firms winning cash awards, the city also announced several dozen more firms that will receive technical assistance from help writing business plans to help reapplying for cash in the next round of awards.