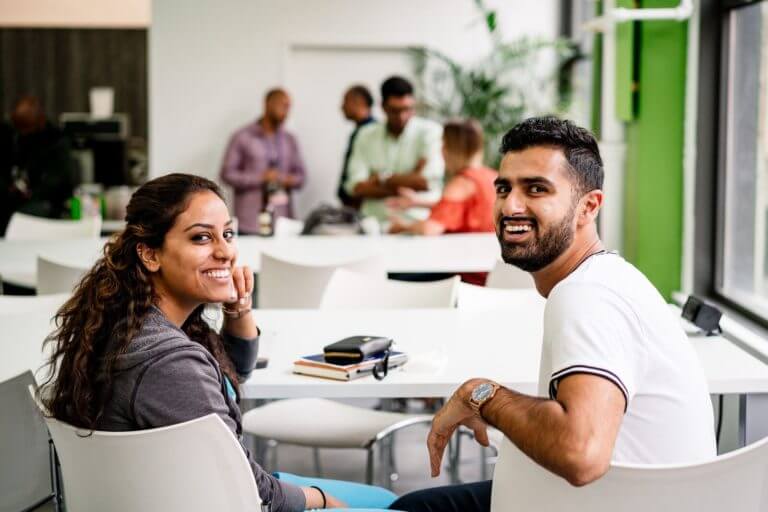 Photo credit: Nick Hagen
In early 2019, New Economy Initiative and Philanthropy for Active Civic Engagement joined forces to tackle a shared topic of interest: the relationship between entrepreneurship and civic engagement. There is a rich history of entrepreneurs engaging communities (Case, Rockefeller, Dodge, Ford, Kauffman, Kellogg, Wilson, etc), but how is the rising generation of entrepreneurs thinking about it? How can we motivate and position rising generations of entrepreneurs to give back to the communities that supported them along the way?
Over the course of a year, NEI and PACE assembled a team to interview entrepreneurs, entrepreneurship funders and investors, ecosystem builders, and others to explore these questions. The result is a comprehensive view into the ways entrepreneurs think about community engagement, and we are pleased to release Entrepreneurial Reciprocity: The Case for Entrepreneurs' Engagement in the Community.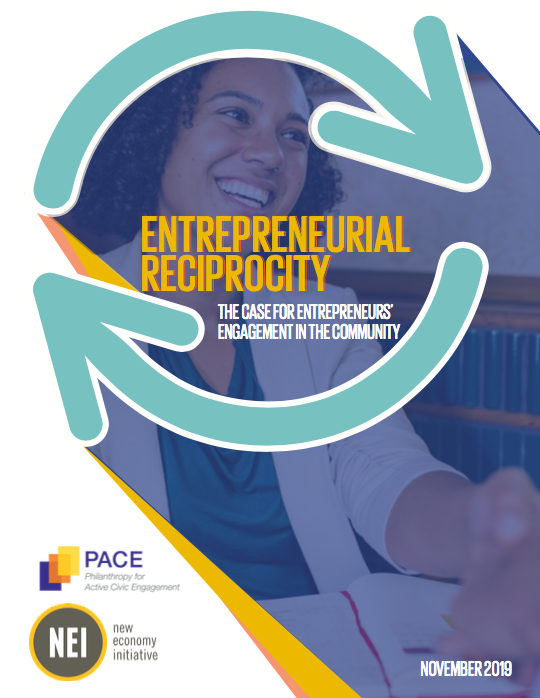 Over the past decade, corporate social responsibility has become a common expectation of businesses, and corporate leaders have increased their attention, understanding, and investment in CSR. This paper aims to light a similar spark in encouraging individual entrepreneurs in their community engagement—acknowledging that individual entrepreneurs need to approach engagement differently than other business or community leaders. However, our research and conversations in executing this project left us with a sense that there is a disconnect between how entrepreneurs view and think about engagement and how it is viewed by others.
We sought to understand the philosophies, attitudes, and activities of entrepreneurs related to their communities. A survey of over 80 entrepreneurs and interviews with over 40 entrepreneurs and entrepreneurship experts informed our findings:
91% of entrepreneurs are currently engaging their communities outside of their business responsibilities.
44% of entrepreneurs say their businesses have grown as a result of engaging their communities; this increases to 54% for female entrepreneurs.
Entrepreneurs' most commonly selected motivations to engage the community—by a significant margin—center around intrinsic motivations like personal values and passion.
Entrepreneurs see more than twice as many benefits than obstacles to engaging their communities. Across all demographics, the largest reason entrepreneurs do not start or increase their community engagement is business demands on their time.
While 53% of entrepreneurs defined community as the place where they live and work, 43% have a different definition of community and 4% have no definition of community.
69% of entrepreneurs say their current geographic community helped them on their entrepreneurial journey.
Recognizing that many entrepreneurs see their primary responsibility as building a successful business, this paper asks readers to consider "What if community engagement was a major factor in contributing to business survival and success?" We break down this exploration into three phases, making the case that community engagement is good for business, entrepreneurs, and communities.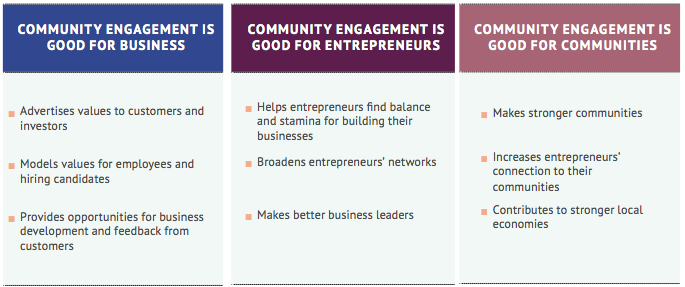 Lastly, this paper aims to provide useful strategies for entrepreneurs to more effectively engage their communities, including how to assess their readiness, build an engagement approach, and balance community engagement with business responsibilities. Profiles of five entrepreneurs provide an added resource and showcase entrepreneurs engaging their communities in various ways with various motivations.
Strategies are also shared for entrepreneurship funders and ecosystem builders on how to encourage an environment of reciprocity among entrepreneurs and communities. Specific guidance focuses on how to start the conversation, design new resources and support systems, make investments that encourage or reward community engagement, catalyze peer networks among entrepreneurs focused on community engagement, and encourage entrepreneurs and communities to define goals together.
---
---
An Executive Summary, Overview and Brief, and Conversation Guide are also available to help spark conversation about these topics.
PACE and NEI thank our partners and colleagues, Amy Baker McIsaac and Cameron Blossom, for their support in creating and writing this paper, as well as the many colleagues who shaped and informed the paper during its development.
If you have questions, feedback, or suggestions on this paper, please email us at info@PACEfunders.org.