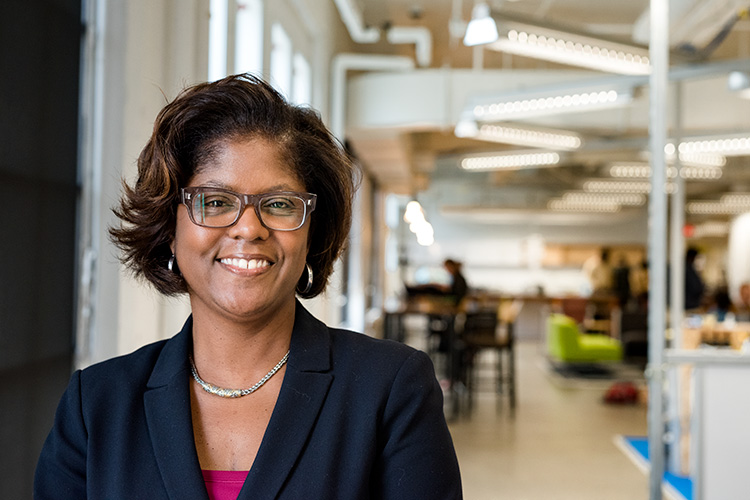 OCT. 28, 2016
BY NICOLE RUPERSBURG, URBAN INNOVATION EXCHANGE
Between 2000 and 2010, 50% of all the jobs lost in the U.S. were in Michigan. During the peak of the recession, from 2007-2008, the idea that the City of Detroit would become one of the best cities in the country for aspiring entrepreneurs with some of the most robust resources available for small businesses was outright laughable.
Pamela Lewis remembers that time, and she remembers thinking that very same thing when she first heard about the New Economy Initiative (NEI).
"I was at NextEnergy when NEI started and was one of the people who said, 'TechTown expects to see how many people in their entrepreneurship program?'" she laughs.
Lewis is now the Director of NEI, though she calls her path one of "accidental leadership."
"I didn't get out of college saying, 'Oh, I want to be a strategic grantmaker for entrepreneurship,'" she says.
Her background is in engineering. She worked at DTE Energy for 16 years, and in the early 2000s she stepped away from that in search of different types of work, which brought her to NextEnergy to work as program director of the state-funded entrepreneurship program that provided technical support and advice within the clean energy space to state-funded accelerators throughout Michigan.
"This is where I first stumbled into economic development and philanthropy," Lewis recalls. "I hadn't been exposed to that before. There I discovered there is this interesting role philanthropy plays in economic development."
When NEI launched in 2007 as a collective of 10 local and national foundations (there are now 12 involved) pulling $100 million in philanthropic grant dollars together in a way that would influence the economy by betting on entrepreneurship, there was very little in the way of existing resources for entrepreneurs and even less in terms of public dialogue around entrepreneurship. Programs and accelerators that did exist at the time were in their infancy compared to what they have since grown into, and entrepreneurship was still very much a gamble – both in terms of funding and in terms of convincing people that entrepreneurship is a valid pathway to personal income generation…
READ MORE: Urban Innovation Exchange