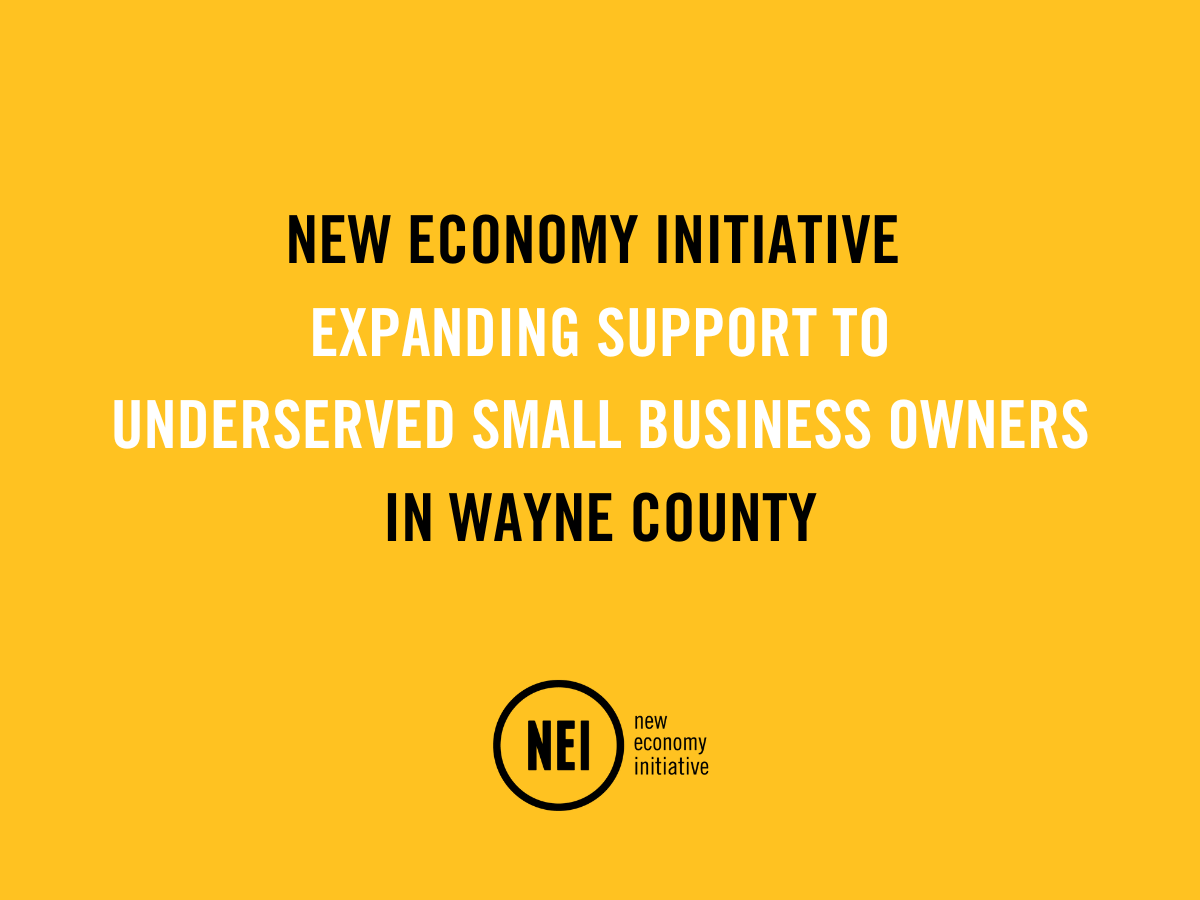 New Economy Initiative Expanding Support to Underserved Small Business Owners in Wayne County
DETROIT – The New Economy Initiative (NEI) is providing new support for underserved small business owners in Wayne County as it works to build on its success in supporting an inclusive entrepreneurial ecosystem in Detroit. Today, the organization announced more than $3 million in grants to nonprofit business support organizations that work directly with small businesses in underserved populations, including women, immigrants, and people of color.
"Small business owners have tremendous potential to increase wealth in their neighborhoods, but as we saw during the pandemic, they face additional barriers to accessing the capital and resources they need to thrive," said Wafa Dinaro, executive director of NEI. "We're working to build a stronger network to support women- and minority-owned businesses. Their success is key to building a more resilient new post-pandemic economy."
NEI is awarding the grants to nonprofit business support organizations that will provide micro loans, technical assistance such as accounting, legal and marketing services or business plan development, and other assistance directly to small businesses. As part of the effort, 22 nonprofit business support organizations will receive a total of $3.055 million in grants, which individually range from $50,000 to $200,000.
"The best way to drive equitable economic growth is by investing inclusively in small businesses rooted in our local communities," Dinaro said. "From technical assistance such as marketing to direct lending, our grantees are providing a support network many entrepreneurs lack to grow their business and create jobs."
The grants are designed to help replicate NEI's previous success on a broader scale and will:
Expand NEI's impact geographically further into Wayne County while maintaining its existing support in and around the city of Detroit.
Support new and existing small businesses with 50 or fewer employees, with a focus on microbusinesses that have 10 and fewer employees and are minority- or women-owned.
Empower organizations with proven track record of assisting small and niche business owners from underserved populations, including women, immigrants, and people of color to expand their services and multi-lingual programs.
"NEI has had success in creating a small business support network in larger urban centers including Detroit, and so we're expanding efforts to replicate that model in other communities that lack similar programming and resources," Dinaro said.
The funding is part of an effort originally announced in June and is made possible by support from the Community Foundation for Southeast Michigan, Ford Foundation, Hudson-Webber Foundation, JPMorgan Chase, The Kresge Foundation, Ralph C. Wilson Jr. Foundation, W.K. Kellogg Foundation, and William Davidson Foundation. Additional grants in support of this initiative will be announced in 2023.
###
About the New Economy Initiative
The New Economy Initiative is a philanthropic collaboration and special project of the Community Foundation for Southeast Michigan that is working to build a regional network of support for entrepreneurs and small businesses. Its mission is to grow an inclusive culture of entrepreneurship in southeast Michigan that benefits all residents and strengthens the regional economy. Since 2009, NEI has awarded 650 grants totaling nearly $133 million to nonprofit business support organizations assisting 21,436 companies while leveraging more than $2.6 billion in the ecosystem. Learn more at https://neweconomyinitiative.org/.
About the Community Foundation for Southeast Michigan
The Community Foundation for Southeast Michigan is a full-service philanthropic organization leading the way to positive change in our region. As a permanent community endowment built by gifts from thousands of individuals and organizations, the Foundation supports a wide variety of activities benefiting education, arts and culture, health, human services, community development, and civic affairs. Since its inception, the Foundation has distributed more than $1.3 billion through more than 80,000 grants to nonprofit organizations throughout Wayne, Oakland, Macomb, Monroe, Washtenaw, St. Clair, and Livingston counties. For more information, visit www.cfsem.org