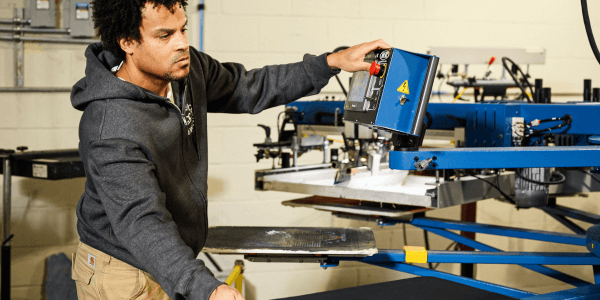 One Custom City Goes

f

rom Grassroots to Big

–

Time Growth
Like many entrepreneurs, finances aren't Ron Watters' thing. His expertise is design and art, and providing unique custom screen-printed apparel through One Custom City.
It has been expertise in finances and navigating the federal government's bureaucratic small business programs, however, that have helped One Custom City thrive–it's just that expertise came from the Accounting Aid Society, a business support organization and grantee of the New Economy Initiative (NEI). 
"I'm a product designer and artist, I'm not a tax person. Your books need to be immaculate. You can't be like: 'I kind of have stuff written down on a napkin somewhere," says Watters, who holds a bachelor's degree in industrial design from the University of Michigan.
With the business finances in order and documented, One Custom City is rapidly scaling its business–seeing nearly a 60% increase in sales compared to spring 2022. One of the few Black-owned print shops in Detroit with an automatic press, One Custom City's clientele has grown from local community-based organizations to also include household brands such as the Detroit Pistons.
Emerging Stronger from the Pandemic
That success would likely not have occurred without a strong small business support network in Detroit that proved so critical when the pandemic brought Michigan's economy to a screeching halt in spring 2020. With all business for One Custom City gone for six months, Watters used the shutdown as an opportunity to retool.
Having worked with the Accounting Aid Society to keep the company's financials in order, Watters successfully applied for grants to keep his business solvent throughout the pandemic, and also earned a minority-owned business status critical to helping him expand once business resumed.
The support helped Watters purchase a game-changing tool of the trade, a $100,000 automatic printing press that cranks out 300 to 400 t-shirts an hour–the same amount he would produce on his manual press in a week.
"In these down times, instead of being like: 'Oh, are we going to survive?' –We were buying a hundred thousand dollar press and refitting the shop with three-phase electricity," says Watters.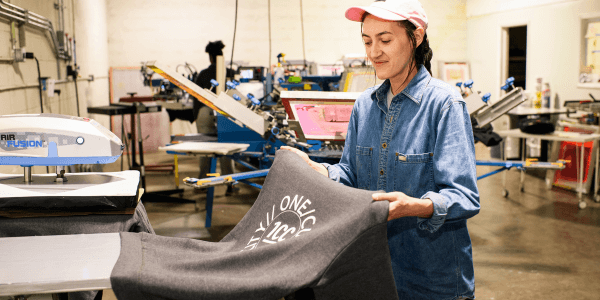 Support of Small Business Comes Full Circle for One Custom City 
The support from the Accounting Aid Society, isn't the first time One Custom City benefitted from the small business ecosystem NEI and its partners have worked to build since 2007. 
Watters won $10,000 in the NEIdeas challenge in 2014, a critical juncture in a small business journey that started out of Watters' Detroit garage in 2008. Up to that point, the business had been kept busy tediously screen-printing shirts individually. It earned business mostly through word-of-mouth referrals and grassroots support from community-based social and nonprofit based organizations that wanted their purchases to support a local small business.
The NEIdeas winnings provided capital Watters needed to make two key purchases–a laptop computer to better manage operations and a manual printing press that could produce about 300 t-shirts in a week. Combined, the purchases would help One Custom City net more than $1.6 million in sales in the subsequent 7 years.
"The press really leveraged the business to be able to produce more, and that was one of the key factors because I was beginning to service more and more folks on the other end of it," Watters says.
The manual press also allowed Watters to help provide training to other entrepreneurs to launch their own businesses, a nod to the grassroots, community-oriented customers who helped One Custom City grow into what it is today.
The support across several years, reflects the importance of supporting not just startups, but "been ups," or businesses that are five, 10, or 15 years in operations but still in need of support to expand and take their business to the next level.
One Custom City has earned a bevy of grants over the years including from Wayne County Black Leaders Detroit, Flagstar, Comcast, TechTown, and the U.S. Small Business Administration.
Amid his success, Watters co-Founded Talking Dolls, a design studio and artist collective on the east side of Detroit where his business operates. It provides space for local entrepreneurs to perfect their own small business or artistic venture, much like Watters did in his garage 15 years ago.
Learn more about One Custom City.