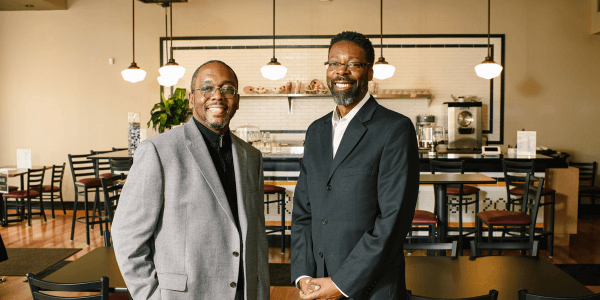 Detroit Soul Defies Odds in Opening Second Location
At the close of 2022, 38% of restaurants owners across the country said they postponed plans for expansion in a business conditions survey by the National Restaurant Association.
Brothers, soul food aficionados, and proud Detroiters Jerome Brown and Samuel Van Buren, weren't among them.
As their nationwide peers were responding to the survey, the co-owners of Detroit Soul were putting the finishing touches on a second location on East Jefferson. The restaurant opened in December bringing their farm-to-table soul food to a second neighborhood that sorely lacked food options and job opportunities.
The secret to their success during historically challenging times for restaurants is multi-layered. First, they selected the location based on three criteria: lack of healthier food options, need for jobs among the residents, and an active community association or block club.
When the pandemic forced a shutdown in 2020, their first location on Eight Mile was already built largely around takeout and fully engrained in the neighborhood by working with Osborne Business Association.
"It really proved valuable when the pandemic came, because we were such an integral part of the neighborhood, we were open the entire pandemic. We didn't have to experience being closed down or business loss," says Brown.
Second, having operated since 2015, Detroit Soul had also become immersed in Detroit's burgeoning small business ecosystem.
As they managed their first location and strategized about a second, Detroit Soul engaged or benefitted from many of the support organizations in Detroit – TechTown, Fair Food Network, Motor City Match, Detroit Development Fund, and the Michigan Good Food Fund, and participated in Goldman Sachs small business program.
Through it all, they gained knowledge and practices they put to use managing their growth.
While Detroit Soul's plan clearly couldn't have accounted for a global pandemic, their business plan did account generally for "external factors."
"The pandemic was just an external factor, we could have had severe weather that put us out of business instead. So, we didn't look at the pandemic as a showstopper, we just looked at the pandemic as an external environment impact," says Brown. "Contingency planning is fundamental for small businesses. Sometimes small business owners don't get to it because we just get so busy, but it really is a foundation of work, of every small business, and it's really no different than what large corporations do. The fundamental practices are the same."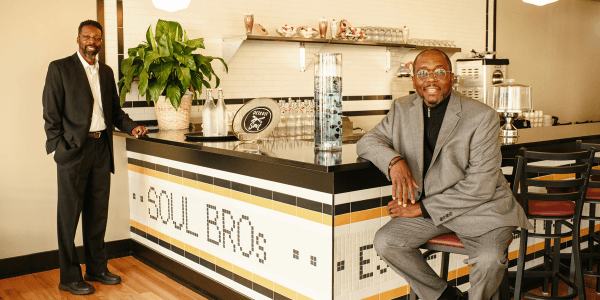 Following their plan, Detroit Soul tapped into that small business support network for assistance when so many other restaurants were closing. This included securing funding from community-based lenders such as the Fair Food Network and Detroit Development Fund, both NEI grantees, as well as Motor City Match to secure grants and capital improvement funding to help finance the second location.
Between the two locations, Detroit Soul now employs about 20 staff with about half being full-time, mostly from the surrounding neighborhoods. Opening the second is helping the brothers achieve their business goals as well as participating in the city's revitalization to provide the same experiences they had as children growing up in Detroit.
"When we grew up everything we needed was in the neighborhood. I didn't know about downtown Detroit until I was 18 because we never went downtown," Van Buren says. "Everything we needed was in the neighborhood. In our own small way, we wanted to bring that element back to the neighborhood."
Learn more at detroitsoul.net.