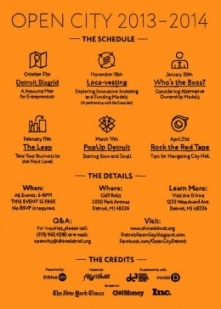 NEI's work is to strengthen institutions and organizations that have the largest impact on entrepreneurial activity, and creates stronger connections to the other organizations inside that network.
---
NEI is proud to be a sponsor of the upcoming BrandCamp Conference, taking place in Detroit on Oct 22nd.
Open City Detroit, a monthly networking event for entrepreneurs presented by D:hive, kicks off its 2013-2014 season with its first event on Oct 21st, where the topic of conversation will be the BizGrid.
NEI is excited to attend the Detroit+Toronto Symposium in late October, where our Executive Director David Egner will be speaking on a panel about innovation.