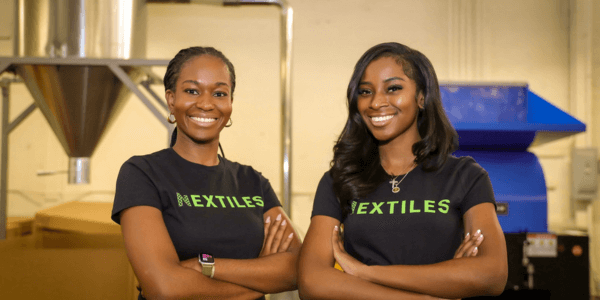 Eco-friendly Insulation Producer NexTiles Ramping Up Capacity
During an internship with a recycler in New York in 2020, Madeline Miller watched as the waste materials from textile companies were being processed in the facility, and something clicked.
"This looks like building insulation for homes," thought Miller, an environmental scientist with degrees from Spelman College and the University of Miami and unique perspective on efforts to increase energy efficiency in Detroit.
The moment combined her graduate study learnings of how particles and fibers from textile waste pollute the ocean and her knowledge of the energy industry picked up through watching her mother Carla's experience leading Walker-Miller Energy Services.
From there, NexTiles was born, a Detroit-based textile recycling company that produces EcoBlow–a non-toxic, eco-friendly building insulation made entirely of recycled pre-consumer fabric from manufacturers, particularly automotive interior suppliers and fashion designers.
NexTiles' primary customers are residential homeowners looking to insulate their homes and improve their energy efficiency. The company collected about 50,000 pounds of materials in its first two years as it built the business. With expanded capacity in 2023, it has already collected 10,000 pounds through the first two weeks of January.
"We're really excited to increase our capacity this year. There's a ton of automotive manufacturing here, and we know that we haven't even scratched the surface of all of Michigan's textile waste," says Miller, 27, who is now researching gaps in energy efficiency programs and how low-income families and communities of color are struggling with energy efficiency as she works toward her Ph.D. at the University of Michigan's School for Environment and Sustainability.
Headquartered at the nonprofit Focus: HOPE in Detroit, the startup company has two full-time employees including Miller as its CEO, and 10 part-time waste specialists who pick up materials from manufacturers. While primarily supplying the DIY residential crowd looking for a green, eco-friendly product to increase energy efficiency in their Detroit-area homes, NexTiles is continuing to work to expand its base throughout the Midwest and land in big box retailers.
Turning to Centrepolis During Product Development
Launching a business during the pandemic, NexTiles initially began collecting the recycled materials in Detroit, but was forced to ship them for processing to New York, which provided increased costs and an expanded carbon footprint that didn't mesh well with its eco-friendly mission.
So NexTiles turned to Centrepolis, a business accelerator at Lawrence Tech University in Southfield, and grantee of the New Economy Initiative. Working with Centrepolis, NexTiles identified locally available waste materials that would transition best to a refined recycled insulation product and meet the highest standards for heat resistance, flame retardation, and the ability to repel insects. The experts on staff also helped identify a stable supply chain of materials that could live up to its eco-friendly mission.
"When it comes to materials that are suitable for building insulation compared with the materials that we would collect on a regular basis, they differ a lot," Miller says. "So Centrepolis hit the ground running helping us identify local automotive materials that already have high insulative properties and can easily be transitioned to building insulation as well as anything that the product may need to be treated with."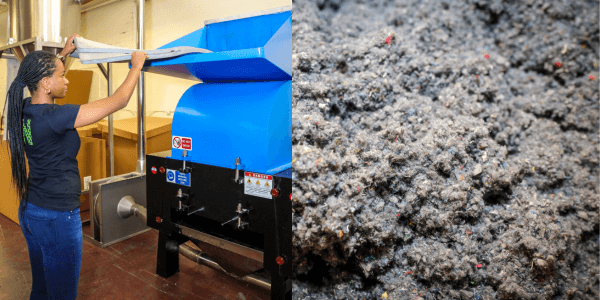 With materials and supply chain secured, the team of experts at Centrepolis helped NexTiles identify and purchase a granulator to process the recycled materials, a critical step to allowing NexTiles to produce EcoBlow in Detroit rather than continue to ship materials off to New York. 
"With the help of Centropolis, we really have pushed through to that next step of having our own processor and being able to accept waste more freely and service other industries," says Miller.
Learn more about NexTiles.