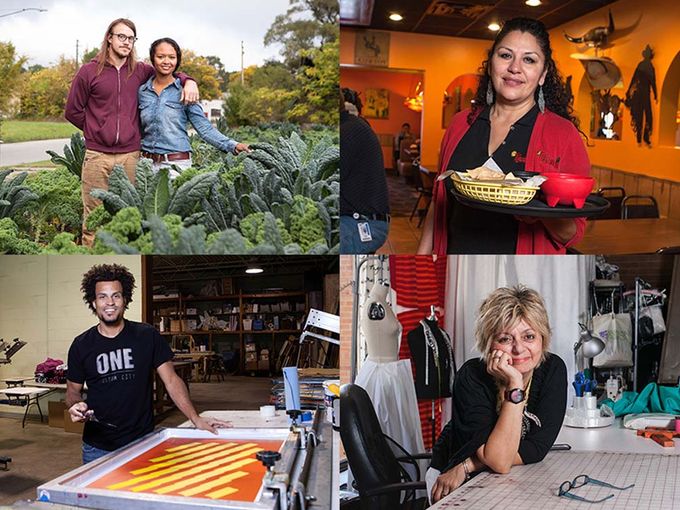 For Immediate Release
 NEI will award a total of $300,000 to 30 existing small businesses across Detroit, Hamtramck and Highland Park for the NEIdeas $10k Challenge at a private award celebration on Monday, October 27.
 The jury process for the NEIdeas $100K Challenge will be complete this November when NEI will award a total of $200,000 to two businesses grossing between $1-5 million, for a total of $500,000 awarded between both NEIdeas Challenges.
 By applying to NEIdeas, Detroit's first challenge exclusively for existing small businesses, nearly 600 applicants gain access to resources, connections to other entrepreneurs and exposure for their business.
DETROIT (26 October 2014) – New Economy Initiative (NEI), a special project of the Community Foundation for Southeast Michigan (CFSEM), announced today the 30 small businesses from across Detroit, Hamtramck and Highland Park that were selected to win the $10k challenge for the first-ever NEIdeas: Rewarding Ideas for Business Growth.  The 30 winning businesses will each receive $10,000 awards for a total of $300,000 at a private award celebration the evening of Monday, October 27.
 NEI launched NEIdeas in May 2014 to celebrate existing businesses in Detroit, Hamtramck and Highland Park and reward those with the best ideas for business growth. The two-tiered challenge offered a total of $500,000 in cash rewards and was open to small businesses at least three years or older.  The two types of awards included: $10,000 for 30 businesses grossing under $1 million annually and $100,000 for two businesses that gross between $1 and $5 million annually.  The $100k challenge winners will be announced in November.
"Small businesses and entrepreneurs have been crucial to our city for many decades – from paying taxes, to hiring local employees and being anchors for their neighborhoods," said David O. Egner, NEI Executive Director. "We were overwhelmed with the response from applicants in this first NEIdeas challenge and we look forward to casting a bright spotlight on the first 30 men, women and family-owned small businesses taking home $10,000 for their business growth ideas."
"Growing small businesses in Detroit is central to our administration's strategy for building our economic base and creating employment opportunities for Detroiters," said Mayor Mike Duggan.  "We appreciate the New Economy Initiative for being such a great partner in Detroit's revitalization."
NEIdeas was operated in partnership with the Detroit Economic Growth Corporation (DEGC). DEGC headed up the jury process and an outreach program that featured more than two dozen "Ambassador" organizations and institutions throughout all three cities that provided small businesses with information and guidance throughout the application process.
"This landmark challenge provided a nice boost to our work with small businesses throughout the city," added Rodrick T. Miller, president & CEO, Detroit Economic Growth Corporation. "NEIdeas gave us the opportunity to connect more companies to all the forms of assistance we can provide, and in that respect it made every applicant a winner."
The 30 NEIdeas $10k challenge winners represent the innovation and ingenuity of Detroit's small business market.  NEIdeas narrowed down the applicant pool from the nearly 600 applicants to a select group of semifinalists. A jury comprised of empathetic entrepreneurs, small business leaders, non-profit partners and corporate partners recommended the final winners based on strict criteria including: growth opportunity, businesses' history and mission, neighborhood impact and good financial standing.
2014 NEIdeas $10k Challenge Winners Include:
 Alexander's Total Lawn Care ­­- Landscaper – Detroit
Idea: Purchase a small dump truck to better position the business for bidding competitively on shopping centers, large companies, apartment complexes, city parks, etc.
Alicia's Cleaners and Alterations – Dry Cleaning and Alterations – Hamtramck
Idea: Add a same-day press, fire/water/mold restoration services, up-to-date point of sale register/ticketing system and purchase an industrial sewing machine.
Anthology Coffee – Coffee Roaster- Detroit
Idea: Purchase a new commercial roaster to expand wholesale operation.
Brother Nature Produce – Niche Farm – Detroit
Idea: Invest in a farm tractor to add tilling services for Detroit residents and other urban farmers interested in converting land for growing.
Buffalo Street Farm – Farm and Agriculture Program – Detroit
Idea:Purchase and prepare additional land to establish Detroit's first grape vineyard.
Café con Leche – Independent Coffee House – Detroit
Idea: Purchase equipment and train staff to bring roasting process in-house, and expand overall product line.
City Bird – Retail Store – Detroit
Idea: Reinvent City Bird through a redesign that expands the store's retail floor area by 50 percent, incorporating new and custom fixtures, and more efficient counter space and storage.
Corridor Sausage Co. – Artisan Sausage Purveyor – Detroit
Idea: Make significant improvements to production equipment by replacing aging and undersized meat grinder and mixer, in order to more than double daily production capacity and greatly expand distribution.
Dijana Creative Sewing and Embroidery – Custom Design Studio – Detroit
Idea: Purchase an industrial sewing machine, and secure space and marketing expertise to expand the businesses' Industrial Sewing Machine Operator training program.
Dulce Diamante Garden – Urban Farm – Detroit
Idea: Purchase and construct cold frame greenhouses, and add fans and heating units to facilitate all-season growth.
Food Field (Peck's Produce) – Urban Farm – Detroit
Idea: Open and operate a shipping-container café featuring seasonally available products. The café will be equipped with cold storage, water and solar electricity, and include indoor and outdoor seating.
G + C Style Barber Shop – Barber Shop – Detroit
Idea: Add a repair service for barber clippers and sharpening tools, in addition to a shoe grooming service.
GLEEOR, Inc. – Construction, Landscape and Property Management – Detroit
Idea: Purchase a skid steer loader to increase market share and competitive advantage in snow removal, landscaping and property maintenance.
Graham's Printing, Inc. – Union Printer – Detroit
Idea: Purchase additional printers to enable overall efficiency and establish a do-it-yourself printing station; install lighting and a camera monitoring system outside of the building to improve security.
House of Morrison Shoe Repair – Shoe Repair and Leather Care Enterprise – Detroit
Idea: Establish an apprentice program for under-employed residents to be trained in the craft of fine leather good restoration, customer service, and entrepreneurship, and allow the opening of future satellite locations; purchase point-of-purchase software to increase efficiency.
Mootown Ice Cream & Dessert Shoppe – Ice Cream & Dessert Shoppe – Detroit
Idea: Establish an all-natural soda fountain service by purchasing equipment and supplies, and expanding countertop for added seating; add point-of-sale (POS) system to accurately track sales and inventory.
OIC Movies – American Sign Language Video Producer – Detroit
Idea: Increase distribution by developing a digital app for users to access content.
Omega Wiring – Wire System Installation and Repairs – Detroit
Idea: Acquire an additional service vehicle and a single-axle trailer to haul equipment and complete more jobs in less trips.
One Custom City – Screen Printer – Detroit
Idea: Purchase additional print equipment including larger capacity screen printing press, flash dryer, and screen rack, as well as upgrade exposure and wash out areas to expand wholesale business
Pronko Enterprises – Food Manufacturer – Hamtramck
Idea: Invest in food manufacturing equipment including an electric dicer, a heated hopper and transfer pumps with piston fillers to advance to a more automated processing facility.
Red Panda – Guitar Effect Design and Manufacturer – Detroit
Idea: Secure a UV LED printer to bring a key part of the manufacturing process into its Detroit workshop.
Rising Pheasant Farms – Urban Farm – Detroit
Idea: Install a radiant heating system in the greenhouse to increase growing capacity while minimizing utility costs.
Seabird Fresh Fish and Chicken – Fresh Seafood and Chicken Market – Detroit
Idea: Provide healthier alternatives for customers by investing in a commercial oven and grill, a commercial steamer (as an alternative to fryers), and a cooler to stock packaged salads and other healthy options.
Shep's Barber & Beauty Shop – Salon and Barbershop – Highland Park
Idea: Purchase additional salon chairs, repair existing stations and remodel to expand services to include nails, hair weaving and braiding.
Small World Development Center – Child Development Center – Detroit
Idea: Give the building a facelift by repairing the doors, painting the inside, installing better lighting, updating signage, investing in a security system, and purchasing tablets, computers and more equipment for indoor/outdoor play time.
Stan's Grocery – Grocery Store – Hamtramck
Idea: Purchase a walk-in freezer to allow for required storage to meet peak demand times, particularly around festivals and holidays; hire a marketing strategist to consult on web, digital and print marketing.
Sweet Potato Sensations – Bakery/Café – Detroit
Idea:Purchase equipment, a cook station, and increased seating to add a savory menu to offerings.
The Turkey Grill – Restaurant – Detroit
Idea: Add a new computerized point of sale system, new exterior signage, additional lighting, and additional cooking equipment to increase street-front visibility and overall productivity.
Tijuana's Mexican Kitchen – Mexican Restaurant – Detroit
Idea:Purchase a convection oven to help attract and fulfill larger-scale catering opportunities.
Touch of Class Restoration – Commercial and Residential Construction – Detroit
Idea: Invest in overall physical improvements, purchase new remediation equipment and hire a marketing consultant to expand services and increase customer base.
Since 2009, NEI has awarded $85.3 million in grants, while exposing more than 80,000 individuals to entrepreneurial services, and helping to create more than 1,200 new companies and 10,300 new jobs in the Southeast Michigan economy. In addition, more than $578 million was leveraged into the entrepreneurial ecosystem through not only entrepreneurs themselves, but also through the grantees and service providers.
The work of NEI has also helped to bring out 716 patents and invention disclosures in the region and exposed more than 250 business ventures to 80 local and national investors. In addition, Accelerate Michigan, an international business competition developed by NEI, has led to more than $4 million distributed in awards and, in 2013 alone, exposure for those businesses to 70 venture capitalists representing $1 trillion in capital.
###
About The New Economy Initiative
Visit neweconomyinitiative.org
Press Contacts:
Heather George
248.417.5773 mobile
Carly Strachan
313.460.8100 mobile