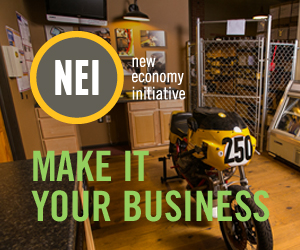 DETROIT, Feb. 3, 2014 /PRNewswire/ — Ten national, regional and local foundations have committed $33.25 million in new funding to continue the work of the New Economy Initiative (NEI). NEI launched in 2008 when ten foundations came together to form a unique $100 million philanthropic initiative to address economic issues in Southeast Michigan. NEI, which is a special project of the Community Foundation for Southeast Michigan (CFSEM), will now have funding to support its efforts over the next three years to not only foster a culture of innovation and entrepreneurship, but also build a network of support for entrepreneurs and small businesses throughout the Detroit region.
Through its first round of funding, NEI awarded $76 million in grants, served more than 35,000 entrepreneurs, and helped to create more than 675 new companies and 8,000 new jobs in the Southeast Michigan economy. In addition, more than $500 million was leveraged into the entrepreneurial ecosystem through not only entrepreneurs themselves, but also through the grantees and service providers.
The work of NEI has also helped to bring out more than 700 patents and invention disclosures in the region and exposed more than 250 business ventures to 80 local and national investors. In addition, Accelerate Michigan, an international business competition developed by NEI, has led to more than $4 million distributed in awards and, in 2013 alone, exposure to 70 venture capitalists representing $1 trillion in capital.