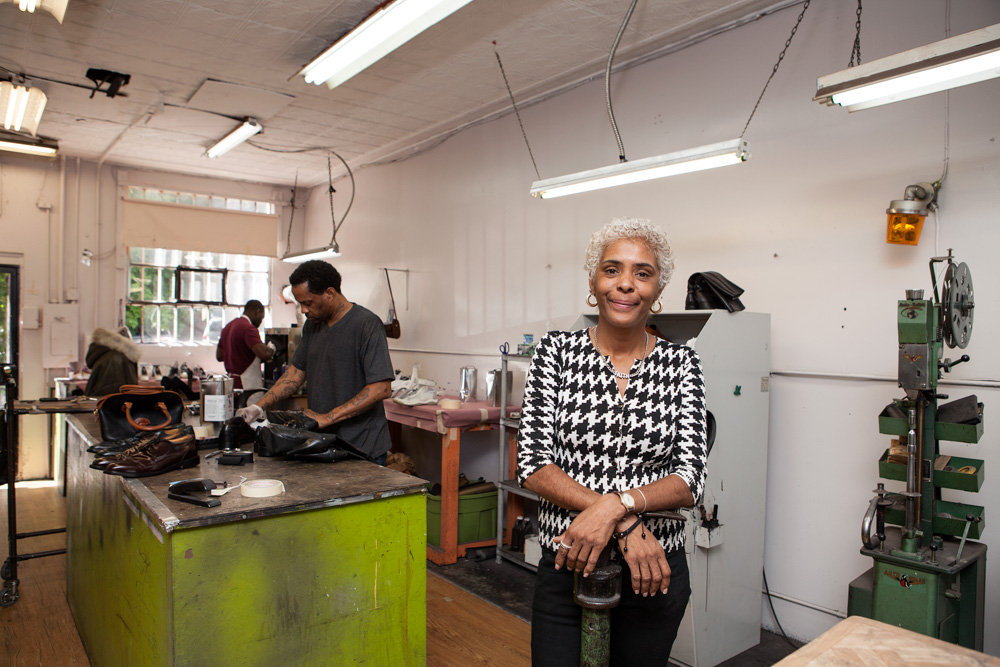 House of Morrison, Detroit
Ronda Morrison applied for an NEIdeas grant on behalf of House of Morrison, her family's 60-year-old shoe and leather shop founded by her father, Theodore Morrison. At the time, she was arranging for her nephew Keenon Morrison, 25, to take over the business.
But on the July 4 holiday weekend, Keenon and his 16-year-old brother were killed in a car crash.
"My plans went totally down the drain with his death," Ronda said. "When that happened, the House of Morrison's fate was on the chopping block." When she returned to the shop after the funeral, Ronda received a letter telling her that House of Morrison was a NEIdeas winner.
"That was like an instant confirmation from God saying, 'Don't destroy everything.' The voice I heard was the voice of reason and I followed it, and that was good," she said.
Now her plan is to install a point-of-sale system at the store on Livernois near 7 Mile Road, and provide apprentice training for local residents in leather goods restoration. In addition to shoe repair, House of Morrison refurbishes leather furniture, fixes purses, even helps a local luxury car dealer with care of interior leather car seats.
"It's a cool profession," she said. "Everybody loves coming into the shop. You don't have to be a rocket scientist to learn the trade, but you do have to want to learn it."
— Tom Walsh
Shep's Barber & Beauty Shop, Highland Park
Shep's is a Highland Park institution, started in 1944 by Richard (Shep) Sheppard on Oakland Avenue, and operating in its current location at 11833 Hamilton since 1965.
Dorothy Grigsby, Shep's niece, has run the place since her uncle died eight years ago. She admits business is "a little slow" these days, compared to the heyday of Highland Park, when Chrysler was headquartered there and the economy was booming.
"It used to be standing room only in here any day you came," she recalled, "but you know, in the African-American culture the braids came out, guys started shaving their heads, so a real barber hasn't made a lot of money in years. But we're still here, a lot of people still know about us. We have judges, a lot of prominent people still come in."
Grigsby, whose son is a barber and one of the shop's six employees, said she plans to use the NEIdeas grant money to knock out a wall and renovate the second floor to accommodate new services such as a nail shop, hair weaving and braiding, or maybe massage.
And someday, Grigsby mused, "I expect these bald heads and things to kind of wear out and it's going to go back to where men are taking more time with their hair and getting real haircuts and shaves. We have three master barbers here who still do the hand shaving and the facial massages. A lot of things are going to change in the next few years. That's why we keep hanging in here."
— Tom Walsh
Anthology Coffee, Detroit
Detroit is known for cars — but coffee?
Maybe so. Anthology Coffee, a wholesale purveyor of fair-trade and ethically sourced coffee beans, hopes to use its $10,000 NEIdeas prize to put Detroit coffee on the nation's caffeine map.
Unlike the ubiquitous coffee shops that cater to consumers, Anthology ships to restaurants and other large buyers in Detroit and beyond. Owners Joshua and Annie Longsdorf run their business from Detroit's Corktown district in the Ponyride collaborative space, but they're thinking nationwide for their customer base.
They plan to use the prize money to buy new equipment that will allow them to fill more orders more quickly.
"We have two new restaurants that will be carrying our coffee hopefully this fall," Joshua said. "A lot of our customers are newer businesses themselves so we continue to see growth on the wholesale end. We have an opportunity to bring on some customers on the West Coast, but they're very big customers and with the roaster we have, it would take a whole day to produce for them."
The money will also help Anthology add staff to help with bagging, shipping and other needs.
— John Gallagher
Graham's Printing, Detroit
There isn't much that Cecil Graham hasn't seen in the general printing business.
"I've been in the business for close for 40 years," he said. "Started in my residence and I ventured out from there."
Working from his commercial building on Gratiot on Detroit's east side, Graham prints material for churches, funeral homes, labor unions, and other locale customers. He prints everything from business cards and letterhead stationery to church programs, posters and flyers. Graham prides himself on producing quality work at cost-effective prices with a quick turnaround.
Graham said the $10,000 NEIdeas grant will allow him to complete needed upgrades to his building, including installing lighting and a camera monitoring system for customer safety. He also hopes to offer an internship either to an interested high school student or a returning ex-offender getting out of prison. And he hopes to provide a do-it-yourself printing section where his customers will be able to make their own copies.
— John Gallagher
Tijuana's Mexican Kitchen
Marisa Garcia, the only Mexican in her Westland subdivision 24 years ago, threw a block party on Cinco de Mayo and cooked for the neighbors, spawning a catering and restaurant business that now has locations in Detroit, Southgate and Lincoln Park.
She caters large orders for delivery to MotorCity Casino-Hotel and the big hospital groups in Midtown from her Ford Road location that she said is "about as far away from downtown as you can get and still be in Detroit."
"I'm so appreciative. Being from outside the downtown area, I did not think we had a chance" to win a grant, said Garcia, who grew up in southwest Detroit. She plans to use part of the cash to purchase a convection oven. She's been doing business with MotorCity for six years, but said she sometimes has to turn away large food requests from them "because I can only produce so much without the convection oven."
The Detroit and Lincoln Park locations have sit-down restaurants along with catering; Southgate is just carryout and catering. Garcia's daughter and son-in-law run the Southgate location; her son runs the Detroit location, and she and her husband shuttle among all three.
— Tom Walsh
G&C Style, Detroit
Detroit's many barbershops often serve a social function as well as a place to get hair clipped. NEIdeas winner G&C Style on Detroit's west side now hopes to offer yet another reason to come in.
Most barbers have no place convenient to sharpen their scissors and other implements of the trade. So Elizabeth Johnson, a retired social worker who owns the G&C Style barbershop, will use her $10,000 award from NEIdeas to buy sharpening equipment.
"There are so many barbershops in Detroit and there's only one place that they can go and get tools sharpened" and that's in the suburbs, she said. "So we thought that there's so many barbershops around we could expand ours and provide that service."
Johnson took over the shop eight years ago after the previous owner died. Her stepson manages the shop for her. The shop serves men, women and children, and offers a full service of grooming needs, including cuts, shaves and heat compresses.
Johnson also plans to freshen up the shoeshine stand in her shop on West Grand River, because she said, "People still get their shoes shined."
— John Gallagher
Dijana Creative Sewing and Embroidery
Dijana Bucalo came to America as a 32-year-old refugee from the war in Bosnia in 1996. A trained fashion designer in her homeland, she found work as a seamstress in metro Detroit. She also tried banking and real estate, but when the economy tanked in 2008, she found herself making garments and selling them from her Hamtramck basement.
"Sewing and creating was always my passion," Bucalo said. She made costumes for a local Bosnian dance group. She bought commercial sewing machines.
In March 2012, she moved into space inside the International Institute of Metropolitan Detroit at 111 E. Kirby in Detroit's Midtown. In addition to creating and selling her own wares, Bucalo began teaching sewing classes and, in partnership with the institute, developed an Industrial Sewing Machine Operator training program.
Bucalo said last week she was in her second week of classes, with about 18 students and a waiting list of more. And while concrete plans are a ways off, she said she has been talking with Shinola — now making leather goods along with watches and bicycles — about possibly hiring some of her students.
She plans to use the $10,000 grant for equipment and marketing of the training program.
— Tom Walsh
OTHER NEIDEAS $10,000 CHALLENGE GRANT WINNERS
■ Alexander's Total Lawn Care (Detroit). Landscaping. Idea: Purchase a small dump truck to better position landscaping business for bidding competitively on shopping centers, large companies, apartment complexes, city parks, among other clients.
■ Alicia's Cleaners and Alterations (Hamtramck). Dry cleaning. Idea: Add a same-day press, fire/water/mold restoration services, up-to-date point of sale register/ticketing system and purchase an industrial sewing machine.
Brother Nature Produce, Detroit. Niche farm. Idea: Invest in a farm tractor to add tilling services for Detroit residents and other urban farmers interested in converting land for growing.
Buffalo Street Farm,Detroit. Farm and agriculture program. Idea: Purchase and prepare additional land to establish Detroit's first grape vineyard.
Café con Leche, Detroit. Independent coffee house, locations in southwest Detroit and New Center. Idea: Purchase equipment and train staff to bring roasting process in-house, and expand overall product line.
City Bird LLC, Detroit. Retail store, Detroit. Idea: Reinvent City Bird through a redesign that expands the store's retail floor area by 50 percent, incorporating new and custom fixtures, and more efficient counter space and storage.
Corridor Sausage Co., Detroit. Artisan sausage maker with shop in Eastern Market, retail stands at Ford Field and one at Detroit Metro Airport in 2015. Idea: Make significant improvements to production equipment by replacing aging and undersized meat grinder and mixer, in order to more than double daily production capacity and greatly expand distribution.
Dulce Diamante Garden, Detroit. Urban farm. Idea: Purchase and construct cold frame greenhouses, and add fans and heating units to facilitate all-season growth.
GLEEOR, INC. , Detroit. Construction, landscape and property management. Idea: Purchase a skid steer loader to increase market share and competitive advantage in snow removal, landscaping and property maintenance.
Mootown Ice Cream & Dessert Shoppe, Detroit. Ice cream and sweet shop in Eastern Market area. Idea: Establish an all-natural soda fountain service with by purchasing equipment and supplies; expand countertop for added seating; add point-of-sale (POS) system to accurately track sales and inventory.
OIC Movies, Detroit. American sign language video producer. Idea: Increase distribution by developing a digital app for users to access content
Omega Wiring LLC, Detroit. Installation and repairs of TV, Internet, phones, security and alarm systems. Idea: Acquire an additional service vehicle and a single-axle trailer to haul equipment and complete more jobs in less trips.
One Custom City, Detroit. Screen printer. Idea: Purchase additional print equipment including larger capacity screen printing press, flash dryer, and screen rack, as well as upgrade exposure and wash out areas to expand wholesale business
Peck Produce LLC, Detroit. Urban farm. Idea: Open and operate a shipping-container café featuring seasonally available products. The café will be equipped with cold storage, water and solar electricity, and include indoor and outdoor seating.
Pronko Enterprises LLC, Hamtramck. Food manufacturer. Idea: Invest in food manufacturing equipment including an electric dicer, a heated hopper and transfer pumps with piston fillers to advance to a more automated processing facility.
Red Panda, LLC , Detroit, Guitar effect design and manufacturer. Idea: Secure a UV LED printer to bring a key part of the manufacturing process into its Detroit workshop from souther states or Ontario.
Rising Pheasant Farms, Detroit. Urban farm. Idea: Install a radiant heating system in the greenhouse to increase growing capacity while minimizing utility costs.
Seabird Fresh Fish and Chicken, Detroit. Fresh seafood and chicken market. Idea: Provide healthier alternatives for customers by investing in a commercial oven and grill, a commercial steamer (as an alternative to fryers), and a cooler to stock packaged salads and other healthy options.
Small World Development Center, Detroit. Child development center. Idea: Give the building a facelift by repairing the doors, painting the inside, installing better lighting, updating signage, investing in a security system, and purchasing tablets, computers and more equipment for indoor/outdoor play time.
■ Stan's Grocery Inc. (Hamtramck) Grocery store specializing in pierogi and other Polish foods. Idea: Purchase a walk-in freezer to allow for required storage to meet peak demand times, particularly around festivals and holidays; hire a marketing strategist to consult on web, digital and print marketing.
■ Sweet Potato Sensations (Detroit) Bakery/café. Idea: Purchase equipment, a cook station, and increased seating to add a savory menu to offerings.
The Turkey Grill , Detroit. Restaurant. Idea: Add a new computerized point-of-sale system, new exterior signage, additional lighting, and additional cooking equipment to increase street-front visibility and overall productivity.
■ TOUCH OF CLASS Restoration (Detroit). Idea: Invest in overall physical improvements, purchase new remediation equipment and hire a marketing consultant to expand services and increase customer base.