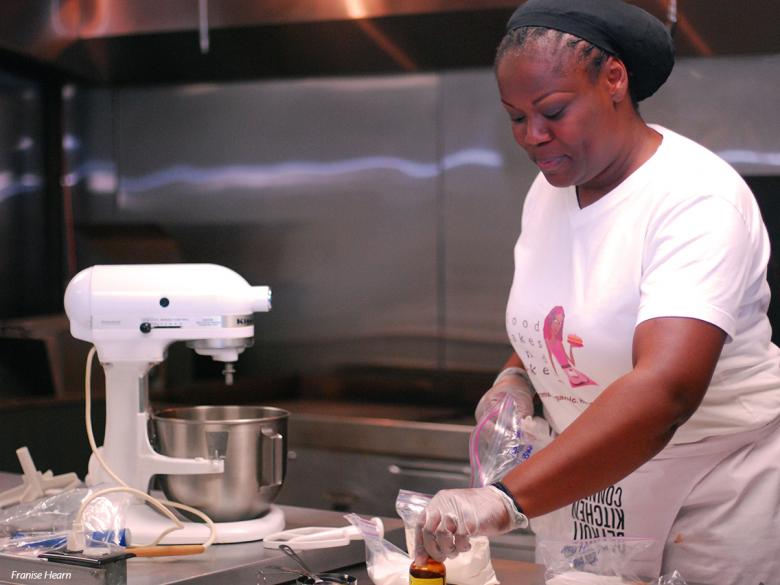 April Anderson starts baking at three o'clock in the morning, 5 days a week — and at one o'clock on Saturdays. At seven o'clock, she loads breakfast loaves, organic cookies, and vegan cupcakes into her van and delivers them to her new shop, Good Cakes and Bakes, in the historic Detroit business district. Just one year after completing a community college program in pastry arts, she has revenues of $6,700 a month, she has hired an assistant baker at nearly double current minimum wage, and she plans to open two more shops, employing 25 to 30 people.
What made it all possible is Detroit Kitchen Connect (DKC). The initiative helps local residents — most of them women of color— transform their ideas and passions into scalable businesses by providing commercial kitchen rentals at sliding-scale rates, and guidance in the nuts and bolts of launching and growing a company.
"No way I would have been able to do this without Detroit Kitchen Connect," Anderson said. "It's definitely been a lifesaver and such an opportunity."
By tapping into local licensed kitchens that are largely unused, DKC is creating pathways to business ownership for entrepreneurs with little wealth or access to capital — people likely to hire other Detroiters and buy supplies from small local firms. It's an example of how to repurpose neighborhood assets to spur small business development, job creation, community renewal, and equitable growth.
"We're helping Detroit re-image what should be done with underutilized kitchen spaces and finding new ways to connect low-income people to economic opportunities wherever they exist," said Devita Davison, a Detroit native and the driving force behind DKC. "While our entrepreneurs are hard at work bringing Detroiters delicious and diverse food and beverage options, our relevancy goes beyond just food. It has to do with building a more inclusive food economy."
Nourishing the city and regional economy
Buying more local foods would bring huge economic benefits to the city and region. Shifting just 20 percent of food spending in Detroit to local producers would create more than 4,700 jobs, raise earnings by $125 million, and bring the city nearly $20 million more in business taxes, according to a recent analysis. Expand this spending shift to the five counties surrounding Detroit, and those numbers soar: nearly 36,000 jobs, $900 million more in earnings, and $155 million in additional business taxes.
That's good news in a city with a vibrant emerging culinary scene and a groundswell of interest in healthier, locally produced, and ethically sourced food. Over the past five years, pop-up cafes, small restaurants, and bake shops like Anderson's have sprouted in previously vacant spaces, increasing foot traffic, improving quality of life, and raising hopes for more homegrown economic development.
But niche food businesses also raise concerns. All too often they turn out to be an early sign of gentrification in a vulnerable neighborhood, the first wave of investment that benefits privileged newcomers and displaces long-time residents. DKC is part of a broader effort to rewrite that story.
Read the rest at PolicyLink.