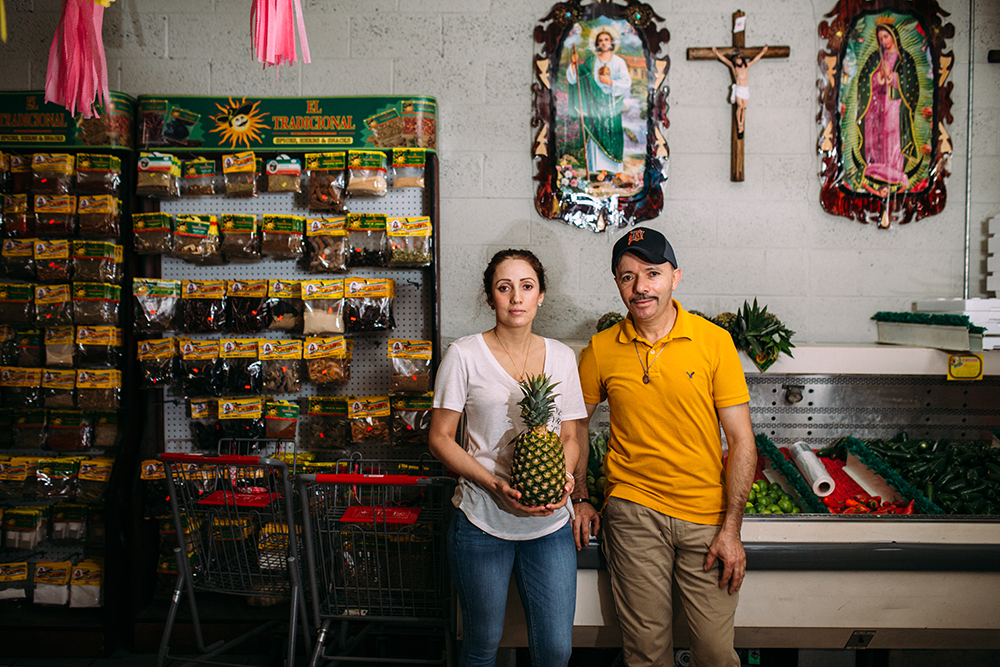 Winning Businesses 75% Minority-Owned, 60% Women-Owned; Will Receive Total of $500,000 in Cash Awards for Ideas to Grow in Detroit, Hamtramck and Highland Park
Winners Selected from 630 Applications; All Small Businesses that Applied Will Gain Access to Resources and Support Services to Help Grow
FOR IMMEDIATE RELEASE
DETROIT (22 November 2016) – The New Economy Initiative (NEI) officially announced today the 32 winners of its annual NEIdeas: Rewarding Ideas for Business Growth challenge. Thirty of the winning small businesses will receive $10,000 each and two will receive $100,000 for their ideas for growth.
A record number of more than 630 businesses applied to NEIdeas this year, all of which will now gain access to opportunities for technical assistance to help them realize their ideas for growth. Of the winners, 75 percent of businesses are minority-owned and nearly 60 percent are woman-owned; more than one-third are repeat applicants from past years. The winning businesses range in age from 3 to 94 years old, and represent a diversity of sectors and industries, including construction, education, farming, food, manufacturing, retail, service, technology, and transportation.
In addition, while 2016 was originally billed as the final year for NEIdeas, the New Economy Initiative today announced that the challenge would continue for an encore year in 2017, due in part to recent commitments from NEI funders to continue the work of the initiative through 2020.
"We're proud of how this challenge has rewarded businesses that are reflective of their communities, and this class of winners is no exception," said Pamela Lewis, director of the New Economy Initiative. "This year we received a record number of applications and heard from community partners and entrepreneurs about what NEIdeas means to neighborhoods and small businesses throughout Detroit. Thanks to commitments from our funders, we are thrilled to announce an encore year of NEIdeas in 2017."
Open to small businesses located in Detroit, Hamtramck or Highland Park that are at least three years old, NEIdeas rewards companies with the best ideas for growth with cash prizes and provides all applicants with opportunities for technical assistance. Since NEIdeas launched in 2014, more than 1,700 businesses representing every ZIP code in Detroit, Hamtramck and Highland Park have applied to the challenge, and 96 of those businesses have been selected to win a total of $1.5 million in cash awards.
The $10,000 awards are granted to thirty businesses grossing under $750,000 annually, and the $100,000 awards are given to two businesses grossing between $750,000 and $5 million annually. A jury of community leaders and past NEIdeas award recipients select the winners. A full list of the 2016 small businesses can be found below.
"Detroit's turnaround won't mean anything if longtime Detroiters aren't a part of it," said Mayor Mike Duggan. "Thanks to the New Economy Initiative's efforts to support small businesses in our city, we are seeing real growth in business expansion and job creation. We're seeing great synergy between programs like NEIdeas and Motor City Match to lift up the businesses that are here and help them grow along with the city."
While cash awards are made to 32 businesses each year, NEIdeas presents all applicants with opportunities for technical assistance to help them grow. To date, dozens of past applicants have been provided with one-on-one technical assistance from NEI-funded small business support providers. Hundreds of others have attended NEI-sponsored workshops on a variety of issues pertinent to small business owners, including legal advice, marketing, accessing capital, real estate, and hiring.
"Through NEIdeas, we are not only giving our winners cash to help them realize their ideas, we're connecting hundreds of businesses to our network of entrepreneurial support organizations," said Lewis. "That's what makes this challenge so special."
NEIdeas is operated in partnership with the Detroit Economic Growth Corporation (DEGC). DEGC participated in the jury process and led an outreach program that featured more than 30 "Ambassador" organizations and institutions throughout Detroit, Hamtramck and Highland Park, providing small businesses with information and guidance throughout the application process. The DEGC also coordinated a series of information sessions across the city during the April
"The help is there," said Adriana Hernandez, whose family runs Guadalajara #2, a Mexican food market in southwest Detroit and a winner of this year's NEIdeas $10K challenge. "They'll get someone to help you with all these papers you have to fill out. They will translate for you."
"Over the past three years, NEIdeas has given us the opportunity to connect with more than 1,700 small businesses in the city," said Rodrick T. Miller, president and CEO of Detroit Economic Growth Corporation. "NEIdeas, with its focus on existing businesses, is a critical piece of Detroit's small business support system. This system is essential in helping every Detroiter participate in our economic expansion."
 2016 NEIdeas $10K Challenge Winners Are:
 Above & Beyond Learning Child Care Center – Childcare (Detroit)
Idea: Purchase a dynamic playground system to enhance children's creativity and promote healthy interaction with other children.
All About Technology – Technology repair and retail (Detroit)
Idea: Train employees so shop can become Detroit's first and only certified minority-owned Apple Authorized Service Provider.
Bob's Classic Kicks – Retail and clothing manufacturing (Detroit)
Idea: Purchase new equipment to manufacture custom apparel and accessories in house.
 Cabresto Imports – Spirits importer (Detroit)
Idea: Invest in marketing services to promote their award-winning spirits among tequila connoisseurs throughout metro Detroit and Michigan.
Champs Landscaping – Landscaping (Detroit)
Idea: Purchase new mowers that will allow the company to take on larger commercial customers and maintain blighted properties in the city.
City Center Coin Laundry Co. – Laundry services (Detroit)
Idea: Modernize payment system so that each of its washers and driers can accept credit and debit cards.
Corbé – Pottery studio (Detroit)
Idea: Expand its studio and services to begin offering pottery classes.
Detroit House Carpentry – Carpentry services (Hamtramck)
Idea: Hire an apprentice and purchase a work truck to help the company meet growing demand.
Fresh Cut Detroit Flower Farm – Floral services (Detroit)
Idea: Install a rain catchment and drip irrigation system that will increase the quantity and quality of its flower crops.
Good Juice – Juice processing (Detroit)
Idea: Purchase cold-press equipment that will increase the company's efficiency and allow it to produce higher quantities of juice.
Gourmet Food Center – Soul food processing (Detroit)
Idea: Purchase new commercial kitchen equipment to expand its product line and increase efficiency.
Guadalajara #2 – Mexican grocery and restaurant (Detroit)
Idea: Equip a delivery van with a refrigeration system and install a patio where customers can enjoy their carryout food.
Highland Park Tire Full Auto Services – Auto repair (Highland Park)
Idea: Build out a general automotive supply store that, coupled with expertise from staff, will help customers repair their own vehicles.
Hunt & Noyer – Custom furniture maker (Detroit)
Idea: Purchase and install an industrial sanding machine and dust collection system to increase efficiency of custom furniture production.
JLH Heating & Air Conditioning – Heating and cooling services (Detroit)
Idea: Purchase equipment that will allow the company to manufacture its own sheet metal ductwork and fittings in house, allowing it to compete with larger supply companies.
La Posada – Mexican restaurant (Detroit)
Idea: Update equipment to better utilize its commercial kitchen so the taqueria can transition from a carryout counter to a sit-down restaurant.
Roby's Shoes – Shoe retail (Detroit)
Idea: Refurbish the store's interior to create a more welcoming environment in the 92-year-old shoe store.
Sevonty Restoration – Stained glass window restoration (Detroit)
Idea: Build out an OSHA-compliant workshop space that will allow her to take on more clients and hire new workers.
Sha La Cynt's – Gourmet popcorn maker (Detroit)
Idea: Buy new equipment for making and packaging popcorn to expand client base.
Smith Shop – Metalworking studio (Detroit)
Idea: Increase efficiency with new equipment and offer a paid training period for two new employees.
Socra Tea – Teahouse (Detroit)
Idea: Purchase kitchen equipment to expand the shop's food and drink menu as well as upgrade its interior to accommodate more seating and a laptop bar.
Spa-A-Peel Studio – Day spa and beauty salon (Detroit)
Idea: Install two new plumbed spa pedicure chairs, which will increase the shop's efficiency and allow it to serve more customers.
Spectacles – Clothing and fashion retail store (Detroit)
Idea: Update store's website and point-of-sale system.
The Cleaning Doctors – Cleaning services (Detroit)
Idea: Purchase a truck-mounted carpet cleaning machine and hire a social media consultant to help him attract new customers.
Toriana's Blessed House of Beauty and Spa – Mobile beauty salon and spa (Detroit)
Idea: Purchase four reclining wheelchairs and an enclosed trailer to transport them to better serve homebound clients.
Triangle Pro Hardware – Hardware store (Detroit)
Idea: Invest in a paint shaker machine to meet the growing demand placed on its paint division, which accounts for nearly half of store's revenue.
Very Special Van Service – Transportation company (Detroit)
Idea: Add an 8- to 12-person, wheelchair-accessible van to its fleet of vehicles.
Welco & Co Inc. – Construction contractor (Detroit)
Idea: Provide training to employees in the installation of geothermal systems for heating and cooling.
Xenophora – Fine jewelry maker (Detroit)
Idea: Purchase casting equipment — the first and only of its kind located in the city of Detroit — to bring much of jewelry-making process in house.
Zarkpa's Purses and Accessories – Fashion and retail store (Detroit)
Idea: Upgrade shop's door to increase security and purchase high-quality leather inventory to bolster in-shop manufacturing.
2016 NEIdeas $100K Challenge Winners Are:
Detroit Training Center – Workforce training center (Detroit)
Idea: Expand Commercial Driver License certification program by purchasing new tractor-trailers for student test-driving and increase marketing of the program.
Louisiana Creole Gumbo – Restaurant and caterer (Detroit)
Idea: Purchase mobile food trucks with built-in hot and cold facilities to provide food services to employment centers across the city of Detroit.
Images of the winners (credit: Ali Lapetina) can be found at the following link: https://drive.google.com/drive/folders/0By7yrMjhdmt9MnZCYWQzN1VkZHc?usp=sharing
###
About the New Economy Initiative
 The New Economy Initiative (NEI) is the largest philanthropy-led regional economic development initiative in the U.S. With funding from 13 national and local foundations, NEI has made $96.2 million in grants through 2015 to build a regional network of support for entrepreneurs and small businesses in southeast Michigan. That network has directly supported over 4,400 companies, which have in turn created more than 17,000 jobs and generated nearly $3 billion in regional output. NEI is housed within the Community Foundation for Southeast Michigan.
For more information, please visit www.neweconomyinitiative.org.
About the Detroit Economic Growth Corporation (DEGC)
DEGC is a nonprofit organization that serves as the lead implementing agency for business retention, attraction and economic development initiatives in the city of Detroit. DEGC is led by a 60-member board comprised of business, civic, labor and community leaders. Its 40 professionals provide staff services for key public authorities that offer tax credits and other forms of financing for projects that bring new jobs or economic activity to the city. Among them: the Downtown Development Authority (DDA), Detroit Brownfield Redevelopment Authority (DBRA), Economic Development Corporation (EDC), Neighborhood Development Corporation (NDC), Local Development Finance Authority (LDFA), and Tax Increment Finance Authority (TIFA). DEGC also provides planning, project management and other services under contract to the City of Detroit. For more information, please visit www.degc.org.
Contact:
Heather George, 248-417-5773 (mobile), hgeorge@loviogeorge.com
Sara Campbell, 315-727-3280 (mobile), scampbell@loviogeorge.com