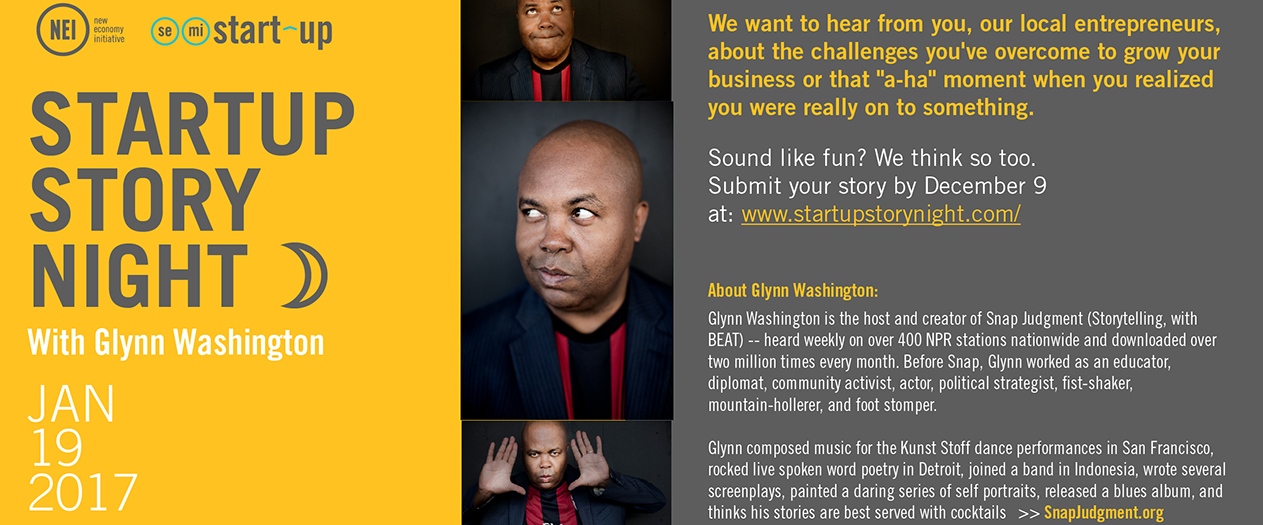 Five local entrepreneurs will take center stage with NPR host Glynn Washington in January
FOR IMMEDIATE RELEASE
Detroit, Mich. (10 November 2016) – Southeast Michigan Startup and the New Economy Initiative (NEI) are seeking submissions for Startup Story Night, a first-ever storytelling event for metro Detroit entrepreneurs to take place Thursday, January 19, 2017. The event will be emceed by National Public Radio personality Glynn Washington, whose Snap Judgment program can be heard weekly on over 400 NPR stations nationwide and is downloaded over two million times every month.
Southeast Michigan Startup and NEI are asking local entrepreneurs to submit their stories, whether about challenges they have overcome to grow their businesses, moments when they realized they needed to take a different direction, or "a-ha" breakthroughs when they realized their startup would succeed. All southeast Michigan-based entrepreneurs, new and experienced, are encouraged to apply. Interested entrepreneurs can submit a brief overview of their startup story at http://www.startupstorynight.com/.
A local committee of small business owners, media members and storytellers will select five entrepreneurs to participate in a private half-day workshop with Washington followed by a public performance of their stories at a venue to be determined.
"Storytelling is such an important part of being an entrepreneur," said Pam Lewis, director of the New Economy Initiative. "We're really excited to help local entrepreneurs polish their skills with a renowned storyteller like Glynn and give them a platform to share with one another and the public. It's going to be a lot of fun."
Further details about the January 19 event will be released in the coming weeks. Submissions are being accepted now through Friday, December 9, 11:59 p.m. at http://www.startupstorynight.com/submissionform.
###
About Glynn Washington
A native Detroiter and current resident of Oakland, California, Glynn Washington is the host and creator of Snap Judgment (Storytelling, with a BEAT) — heard weekly on over 400 NPR stations nationwide and downloaded over two million times every month. Before Snap, Glynn worked as an educator, diplomat, community activist, actor, political strategist, fist-shaker, mountain-hollerer, and foot stomper.
Glynn composed music for the Kunst Stoff dance performances in San Francisco, rocked live spoken word poetry in Detroit, joined a band in Indonesia, wrote several screenplays, painted a daring series of self-portraits, released a blues album, and thinks his stories are best served with cocktails. SnapJudgment.org
About Southeast Michigan Startup
Southeast Michigan Startup is an online publication focused on the entrepreneurial economy in Metro Detroit.
About the New Economy Initiative
The New Economy Initiative, a special project of the Community Foundation for Southeast Michigan, is the largest philanthropy-led economic development initiative in the U.S. working to build a regional network of support for entrepreneurs and small businesses. Through 2015, its grants have created a network that has directly supported over 4,400 companies, which in turn have created over 17,000 jobs and generated nearly $3 billion in real output.
###
Contact:
Matthew Lewis, New Economy Initiative
mlewis@cfsem.org
313-421-6313